As soon as you get a driver's license, the hunt for a car is usually underway. Few end up with a first-time car that the Tord Inge Hval acquired. Not all 19-year-olds have such a first-time car, but young Norwegian Tord Inge Hval had no dilemma – his first car was a Saab 96.
The 19-year-old from Jevnaker set off and bought an equally well-used 1970 model Saab 96. This young Saab enthusiast bought this beautiful red Saab 96 from a seller from Elverum a few years ago, and it was his first Saab and the first car in general.
Saabs like this were widely used at Hadeland and in Norway in general, in their time. But whether they were two or four-strokes is not remembered. His Grandfather Peder had a 1963 model with a two-stroke engine, which he drove until 1974. It was on the farm until not too long ago, it, says Tord about the car that was sent for wrecking not too long ago.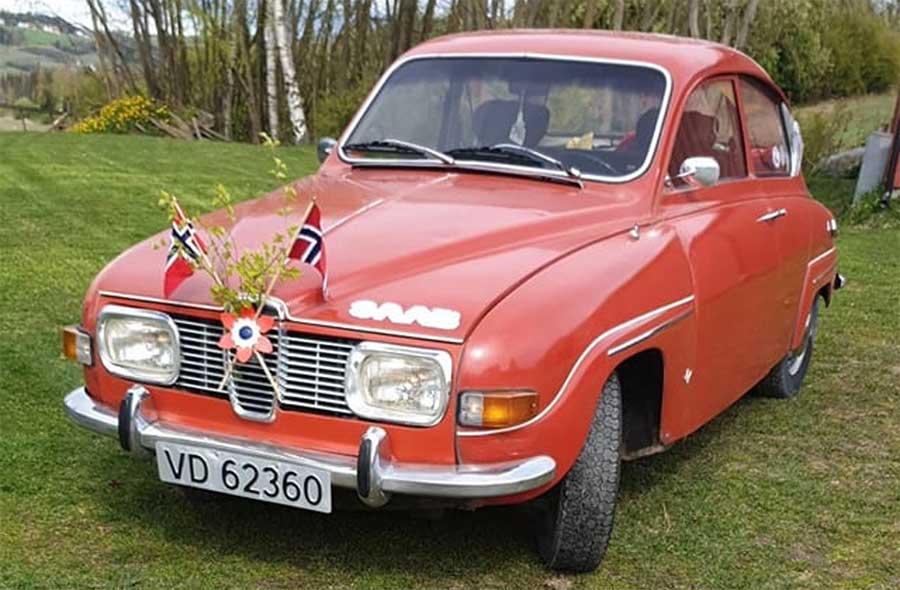 But now the two-stroke Saab 96 is back on the farm. More specifically, two pieces where one is to be completely renovated, while the other is a "donor car", says Tord, who will do most of the work himself. As an industrial mechanic apprentice, he does not hesitate to go for such a job.
Tord says that he only paid a few thousand kroner for the car and thought he got a lot of car for the money. It took some work to get it in order, but now it has become a fully usable utility vehicle. The car is EU-approved until October this year, so he drive both long and short trips with it.
This Saab 96 had been at rest for most of the last five or six years. The previous owner had restoration plans with the car, but this did not work out. Tord Inge does not have such plans either. Tord will not deal with car restoration, but will drive and use it in this condition. He thinks the front-wheel drive car is surprisingly good and drivable, but he complains about the large radius needed to turn the car.
"Too many vintage cars have been refurbished and become nicer than they were from the factory", thinks the young and satisfied Saab owner from Jevnaker. Because of all that, Tord decided to keep his car in its original condition, so that Saab would keep its "scars" on itself.