Dedicated Saab car enthusiasts know that there are several specialized museums dedicated to Saab cars around the world. Certainly, two, the most famous is the one at Saab's headquarters in Trollhattan – Saab Car Museum, and the other is located in the US – The Saab Heritage Museum, in the small town of Sturgis in South Dakota, run by big fans of this brand Tom and Patti Donney. In addition to these two largest and most famous museums, there are several others in the world, and one of them is this one in Umeå, Sweden.
In the title, we put that this museum is "Norwegian" although it is not actually located in Norway but in Sweden, but the museum is "Norwegian" because it is run by a Norwegian. Saab Memorial Hall is the name of the collection, and here – far further north in Sweden you can find a beautiful collection of old Saab cars, a museum started and run by a Norwegian.
Barely 20 Saab cars from 1955 to 2007 – none of them newly restored gems, but cars that have marks of a lived life, just like you and me – this is how this exhibition can be described. The museum is designed on the principle of self-service and was opened after the Corona pandemic, and the entrance of 50 crowns is paid only by men, but not by women and children.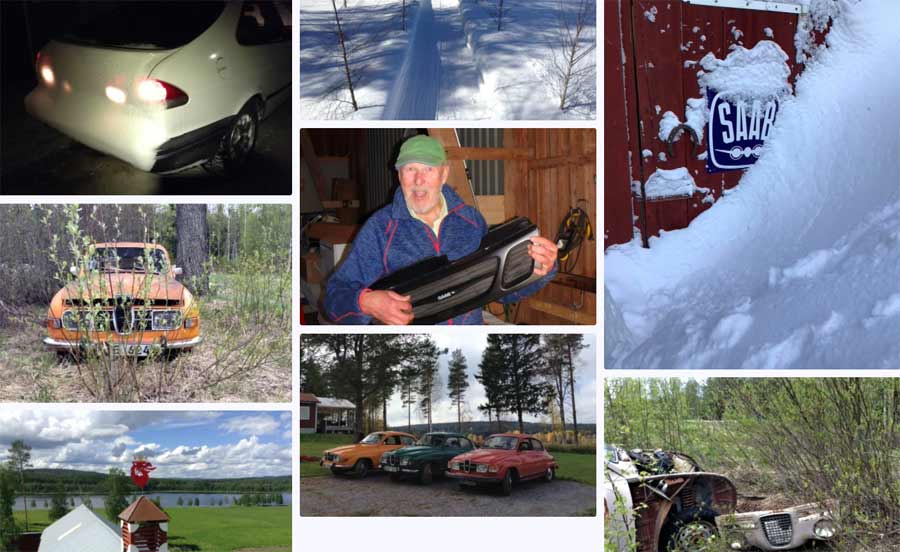 As it says in the instructions: "park outside, get in and walk around and take a look". The temperature inside the museum building is the same as outside. Inside are chairs and tables and coffee you make yourself. Home bakers from the Helens Gullsjo bakery, Saab movies, and Saab books are also available.
The museum is run by Tron Bach. When Tron Bach moved to Gullsjö in 2011, he found an old, broken Saab 92 in the yard.It was the beginning of his Saab collection which opened to the public a couple of years ago (Opened 4.8.2019) –  opens this season in June 2021. Tron Bach was born and raised in Norway where he worked as a hotel owner and built up the Railway Museum in Finse (THE RALLAR MUSEUM), in memory of the people who built the railway between Oslo and Bergen. When he reached retirement age, he was attracted to Sweden. It was, among others, Olof Palme, Abba, and Ingmar Bergman who had made him fall in love with this country.
When Tron found the farm in Gullsjö, Vännäs municipality, he said it was love at first sight. After the decision to settle there, he found a gray-white Saab 92 behind the woodshed. It had been in a moose accident and was missing all the wheels. Tron first thought that the car would be scrapped, but a good friend and Saab enthusiast from Norway told him that it was Saab's first car and Tron refurbished it instead.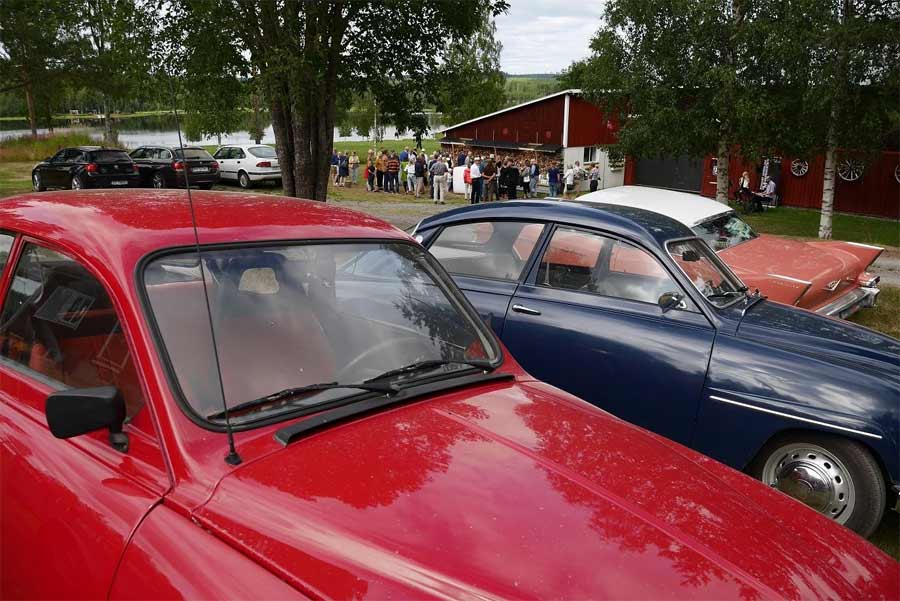 The same year that Tron found this car, Saab Automobile went bankrupt.– "Suddenly these cars became history.I decided I wanted to showcase Saab's amazing development." – he said. Tron started buying Saab cars in different colors from different eras, from 1955 to 2007. The journeys to buy the cars have been many and long. There are almost 20 Saab cars in Tron's barn where the cows used to be.
Tron estimates that he has spent around 6,000 hours refurbishing the barn, decorating the museum, and renovating the cars. "I thought that the most dangerous thing you can do as a pensioner is to lie down on the sofa because then you die. It is important to commit," says Tron. 
But even though Tron has renovated the cars, all have their marks and shortcomings after a long life. At each car, there is a sign that in Norwegian tells the car's personal story. The museum is divided into five parts. Among the most interesting cars in this collection, cars with an interesting history, there is also a real former police Saab 9-5.
A car that means a little extra to Tron is a blue Saab 99. He says that his friend bought a similar car when he was in his 20s, and Tron had to go on many trips in this car. It reminds him of how wonderful life was then. Tron says that he imagined this small museum as a small excursion destination for all car lovers from this region, and it will probably be interesting for some people who live further away but are bigger car lovers.
The museum is open 24 hours a day and when you enter you are greeted by the sign "100 percent self-service".Tron also suggests having a coffee in the barn with cookies baked by the neighbor, and a walk-in beautiful Gullsjö.The idea is that the museum will be open during the summer months in this and the coming years.