Thomas Randle is a young Australian racing driver who has been competing successfully for years in several racing championships, in completely different racing platforms and formula cars. To him, driving race cars is in his genes. Thomas Randle is son ofDean Randle who is best known as a national Sports Sedan champion in special Saab 9-3.
Throughout the late 1990s and much of the 2000s, Dean's wild Chev-powered V8, Saab 9-3-based creation was one of the familiar, front running cars among the fire-breathing Sports Sedan set. Dean campaigned the Saab to great effect for over a decade, peaking with a national Sports Sedan title in 2006. Since hanging up his own helmet, Dean has been a passionate, committed supporter of Thomas' career and also established his own race team – DREAM Motorsport – which ran numerous drivers in Formula Ford and Formula 4.
It's been two years since Randle competed in the title-winning Chev-powered SAAB 9-3 prepared by his father Dean, who won the 2006 Australian Sports Sedan Championship. Randle is keen to return to the wheel of what is regarded as one of the fastest Sports Sedans in the country.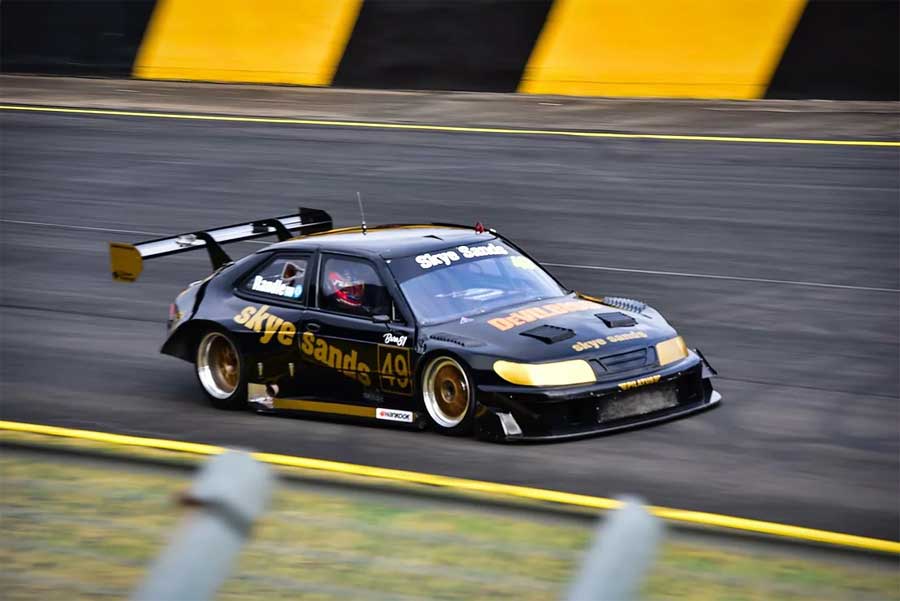 "It's just a really raw machine to drive, the chassis was built by Ron Hossack back in 2009 and my dad along with many other helpers through the journey have built it to where it is today. Dad and a few of his crew have put a lot of hours at the shop to get it up and running, it's just going to be great to get back behind the wheel of it." – Recalling the last time he was behind the wheel in 2019, Randle demonstrated the SAAB's pace, but the weekend ended prematurely.
"We got pole, I got the fastest lap across the line, but then the engine blew up. The engine has been rebuilt at KRE, those guys do an amazing job and we came here last Friday for a test day." says Thomas about the end of the racing day. Wakefield Park where the race was run is a very short, tricky track. As Randle himself points out this race track doesn't have a lot of breaks, so you're pretty physically exhausted after that and you have to really charge that car.
Randle frantically kicked off the year in which he finished second in the inaugural Australian S5000 Championships, followed by a Wildcard appearance at Tickford Racing on The Band, which will continue at the Darwin and Perth Supercars events.
Now, Thomas Randle will transfer his focus to the Precision International National Sports Sedan Series. Confirming his participation in all five Precision International National Sports Sedan Series rounds, Randle said the SAAB is the closest thing he drives to a Supercar as he keeps match fit ahead of his third Bathurst 1000 campaign in October.