In 2007, Hirsch Performance, the Swiss tuning company renowned for its Saab upgrades, embarked on an ambitious project: the Saab SuperSport Coupe. This two-door sports coupe was conceived with the aim of generating media attention for both Saab and Hirsch, while simultaneously serving as a showcase for cutting-edge technology, design, and performance. Taking inspiration from Saab's Aero X concept, the SuperSport was not just a mere concept; it was designed to be produced as a limited edition for discerning customers.
Before delving into the details of the Saab SuperSport Coupe by Hirsch Performance, it's essential to note that precise and corroborated information about this concept is scarce. Available sources provide only a handful of sketches and descriptions, and efforts to verify these claims directly with Hirsch Performance have proven inconclusive.
As a result, this concept car remains shrouded in mystery, its allure only enhanced by the limited information available. Despite the lack of concrete data, the Saab SuperSport Coupe appears as an exceptionally attractive and intriguing concept, not only for its time but even by contemporary standards.
Saab SuperSport Coupe Engine Power and Performance
One of the standout features of the Saab SuperSport Coupe was its powerhouse engine. The plan was to upgrade the V6 engine to a formidable 400 horsepower, pushing the boundaries of performance. Additionally, there were discussions about the possibility of tweaking the V6 to run on E85, an environmentally friendly ethanol-based fuel.
The power generated by this robust engine was intended to be channeled through a six-speed manual transmission, providing an exhilarating driving experience. Moreover, the plan included integrating Saab's XWD (all-wheel drive) system with eLSD (electronic Limited-Slip Differential) into the convertible chassis, a technically ambitious but enticing proposition for enthusiasts.
Enhancements and Modifications
The Saab SuperSport Coupe wouldn't just shine under the hood; it was designed to turn heads with its distinctive modifications. Hirsch Performance intended to provide a comprehensive upgrade package, including; Hirsch Performance interior offering a blend of luxury and sportiness, befitting a high-performance coupe, a custom body kit was planned to enhance aerodynamics and aesthetics, contributing to the car's unique appearance, Sports Suspension, Unique Hirsch rims would add to the car's visual appeal and performance capabilities with Carbon-Ceramic Brakes, and at end Special Sports Seats – High-performance sports seats were planned to offer comfort and support during spirited driving.
Design and Aesthetics
The Saab SuperSport Coupe was set to be based on the Saab 9-3 Convertible, with a distinctive twist. Instead of the conventional soft top, the design incorporated a black carbon fiber hardtop, transforming it into a coupe. Notably, this hardtop was envisioned to be made of glass, providing passengers in the cabin with the sensation of being in a convertible, creating an airy and open feel.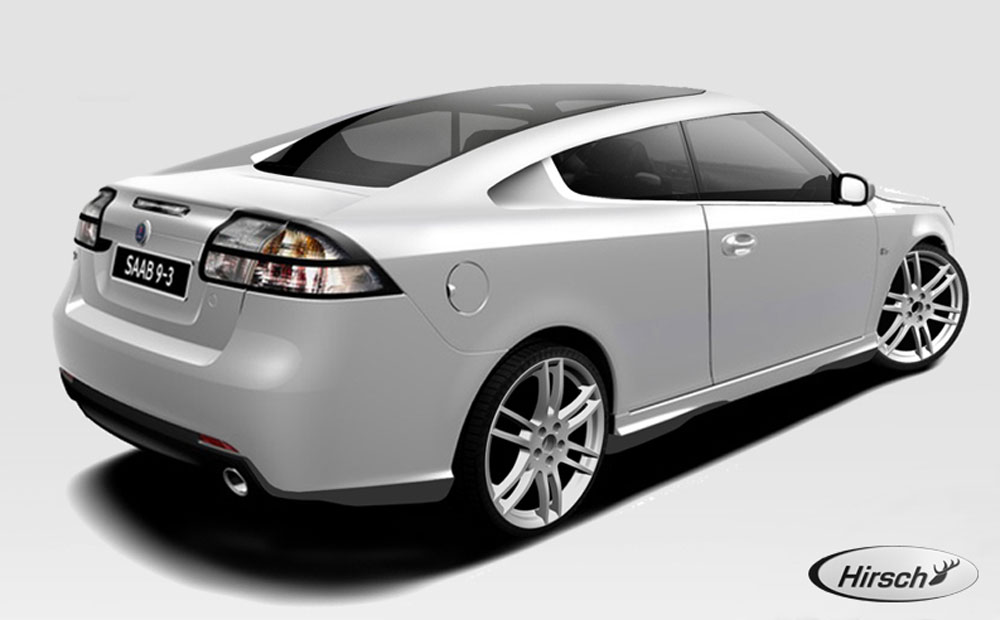 Additionally, the design included black A-pillars, similar to the Saab 9-5ng, which were intended to emulate the ambiance of an aircraft cabin. These A-pillars would have surrounded the driver and front passenger with a seamless glass surface, enhancing the overall aviation-inspired aesthetic.
A closer look at the design reveals some similarities to other iconic Saab concepts, such as the Aero X and the PhoeniX. Despite its inherent sportiness, the SuperSport Coupe's overall design exuded that classic understated "Saabish" charm. Taras Czornyj, a designer who had previously worked on the Saab 9-3 SportCombi, was the creative mind behind this captivating design.
Price Point
Of course, these are assumptions. Considering the exclusive nature of the Saab SuperSport Coupe and its high-performance enhancements, it is estimated that the target price would have been approximately 20-30% above that of the Saab 9-3 Aero Convertible, potentially making it an enticing option for individuals in search of a distinctive and technologically advanced vehicle.
Why the Concept Didn't Materialize
Regrettably, the Saab SuperSport Coupe remained a concept, never reaching production. Hirsch Performance presented the idea and design to Saab with the intention of establishing a collaboration to promote and manufacture the SuperSport. However, during the challenging days of General Motors Europe (GME), Saab did not see the potential advantages and declined the opportunity. As a result, this promising project remained shelved, leaving many Saab enthusiasts and automotive enthusiasts alike disappointed.
The Unrealized Beauty of the Saab 900 Sport Coupe (1994)
In 1994, the Saab 900 entered its second generation, a significant step for the brand as it transitioned to a platform shared with the Opel Vectra. It's during this era that Saab enthusiasts were introduced to the captivating Saab 900 Sport Coupe, a concept designed by Valmet Automotive. This stunning coupe concept is often regarded as one of the most beautiful Saab designs ever created, and yet, it remained a dream that never materialized. Engineered in Finland at the Uusikaupunki Saab/Scania plant, this concept had the potential to rival models such as the Peugeot 406 Coupe, Honda Prelude, Volvo C70, and Mercedes CLK.
The Saab 900 Sport Coupe featured a captivating hardtop design that drew the admiration of many. The prospect of this unique and visually appealing coupe becoming a production reality was tantalizing, but it ultimately remained an unfulfilled vision. During the same period, Saab introduced the New GM900, available in S and SE trim levels, equipped with Saab's iconic 4-cylinder engine lineup.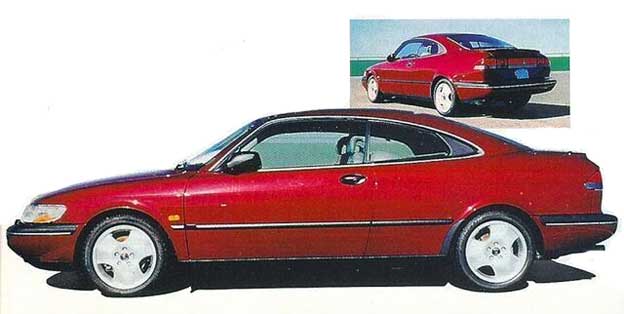 A Missed Opportunity for Saab: The SuperSport Coupe's Potential Legacy
While the Saab SuperSport Coupe by Hirsch Performance stands as a compelling vision of what could have been, it's important to acknowledge the element of uncertainty surrounding its existence. The concept is primarily known through graphical design proposals, and its actual realization remains unverified. However, if indeed brought to life, it would have represented a missed opportunity to create an exclusive and technologically advanced sports coupe, potentially enriching Saab's lineup.
The concept's allure lies in its proposed powerful engine, the promise of cutting-edge enhancements, and the captivating design that could have set it apart as a standout choice for automotive enthusiasts. Even in its conceptual stage, the Saab SuperSport Coupe stands as a testament to the innovation and creativity that Hirsch Performance brings to the world of automotive tuning.
While the project's fate remains uncertain, one cannot help but imagine the excitement and legacy it could have contributed to Saab's storied history had it materialized.