Ebay have got tons of beauties from before 1970, including these beautiful Saab 95 V4 Wagon from 1974!
This Saab 95 is a really pretty little car. We are not a fans of this Indian yellow color on this one (It is a matter of personal affection and affinity)- we always think they look best in Laguna blue or Torreador red – but it's in beautiful condition and Modified (tuned).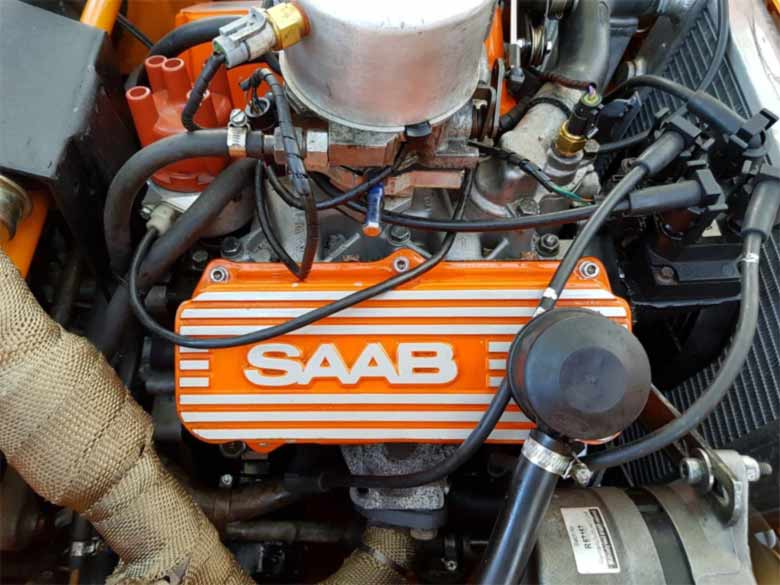 There's virtually no piece of this car that wasn't removed, inspected, polished to within an inch of its life, and put back on. It was fully restored a few years ago and has since won numerous car shows. Those who are less familiar with the Saab brand would say – It has that plain unclutterred northern european look.
This was the information they offered on the car:
Gina is for sale
She's a 1974 95 V4 with a bit of a twist. She has air ride and has had a turbo and efi conversion, she now runs at 120 bhp at the wheels and sounds awesome. She is in her original colour of Indian yellow.
The work carried out on her is as follows:
Engine rebuilt and blue printed with Volvo b21pistons, making her 1560 cc, standard cam.
Single point fuel injection managed by mega squirt system.
Small garret turbo running minimum boost at the moment,
Very rare rebuilt Saab Rally sport gearbox.
Whilst the engine and box were out the engine bay was resprayed and welded in a couple of places.
Saab rally sport vents fitted on the bonnet, smoothed and bonnet painted.
Bespoke twin exhausts.
The entire 7 seat interior has been retrimmed in hounds tooth fabric withvinyl and orange piping, new carpets fitted. The interior was dyna matted through out. She runs as sweet as a nut now and attracts a lot of attention, she has won numerous awards at shows, including a Highly commended at Ultimate Stance 2017. I'll be really sad to see her go but needs must.
1972 was the first that Saab installed the Ford-sourced V4 engine in the 95 and 96, and it was also the last year for the "short" windshield. such machines are no longer being made today, they are highly engineered, reliable and surable, and built for practicality and to a low price. And let's not forget, in that time, the 2 strokes were sold with a lifetime warranty to the original owner.
In all likelihood, this is a specially modified classic Saab. A Garrett turbocharger has been added, then Saab Rally sport gearbox and a couple of other special things, and this car has increased power from original 73 bhp to a total of 120 bhp at the wheels.
This 1974 model is on eBay now, with bidding at about £16,995.00.