The Saab S9 is no ordinary Saab, and at least for now, it doesn't exist in reality, and it is the result of the incredible imagination of the exceptional 3D CGI artist and conceptualist Ash Thorp and his creative studio ALT Creative. Ash's studio is engaged in a variety of creative activities, from creating creative concepts, through motion graphics, 3D and VFX, to digital art photography and illustration.
He is Master in Motion Graphics, as a director, illustrator and creative director He has been working in many feature films and other creative projects. Some of his projects include Dawn of the planet of the apes, Mission Impossible – Rogue Nation, James Bond Spectre, Call of Duty, Prometheus, Iron Man 3, The Walking Dead and dozens of others like his own short-film: Lost Boy
Additionally, his studio specializes in vehicle designs, involving the production of concepts, 3D models, textures, and constructing its overall form and function for both films and real-world fabrication. It is in this domain that Ash recently showed what he can and what he knows, creating an amazing sports race car The Saab S9 based on the classic Saab 900 Turbo model.
Tee Race Car Concept – The Saab S9
The S9 concept is simple and pure, the concept is not overemphasized, the car is sporty powerful but sleek. As he says – "Take a car that was somewhat forgotten, modernize its design, and reinvent its narrative to be a leading contender in the world-renowned IMSA racing series." On this project for Art Direction, Design and CGI, Ash was in charge, while his assistant in the field of CGI Modeling was Matthew Bellamy.
The whole concept car is designed to be done in carbon. Ash has always loved the idea of what a clear carbon composite could be, and so He felt the S9 was the perfect candidate. You can only imagine if the real S900 was converted to carbon, how much lighter and faster it would be. As you can see, the artist brought his imagination to perfection, just look at the details.
The base Saab 900 had to be drastically expanded to accommodate huge beautiful sports wheels. There are cooling holes in the right places, both for the engine and the brake discs, and there is also a special place for the exhaust system.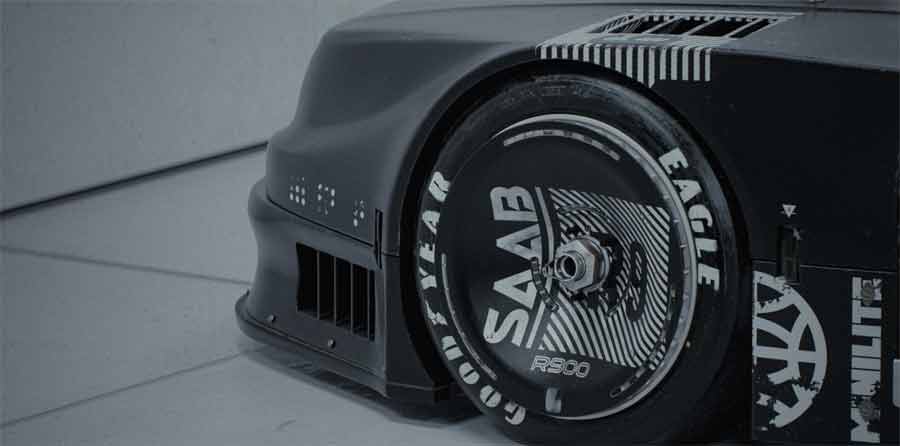 Those of you know He is a big fan of taking "forgotten" cars and reimagining them. Here is another detail side shot showing off some of the new lines.
Here is one of his favorite angle views on this build… the massive wing. This build is hands down the most involved yet and the team had a blast at every stage of the process:
The Saab S9 Action Shots
But no concept is framed unless you set it up in a natural environment, and in this case – since it's a race car concept – the concept had to be set up on a racetrack. No concept car project is complete without including a proper set of action shots.
Thanks to the support of Larry Chen, who provided the amazing backplates of the world famous Nürburgring, Ash and his team were able to show us what it would look like if the modern Saab 900 flew to the famous Nürburgring. Just amazing, just look at these visualizations:
Saab Power
The Saab S9 (its working name was R900, so this motif appears on the graphics) reinvent its narrative to be a leading contender in the world-renown IMSA racing series. Ash's team adore the IMSA racing era of the late 80's early 90's and he has always had a soft spot in nis heart for the body shape and lines of the SAAB 900 turbo so they thought… sure, why not. That is the fun and power of doing these projects.
Here is what Ash said about this great project: "This project like all passion projects was a product of long hours, weekends, nights for months and months. It's a total labor of love and we had a great time bringing it to life.

For me I have learned a great deal about how to push the quality of my materials, post processing, shaders, renders and how to better light and build projects. One of my personal goals in CGI has been to match or attempt to match the quality of work that Alex Roman captured in his masterwork – The third and the Seventh.

I am still a ways away from that goal but with each project I get a glimpse of what is to come. Cheers to the future and for setting insane goals! More renders/details/breakdowns to come in the following weeks. If you would like to see the entire project please visit my site (link in the bio) with all the high res images your heart can consume)."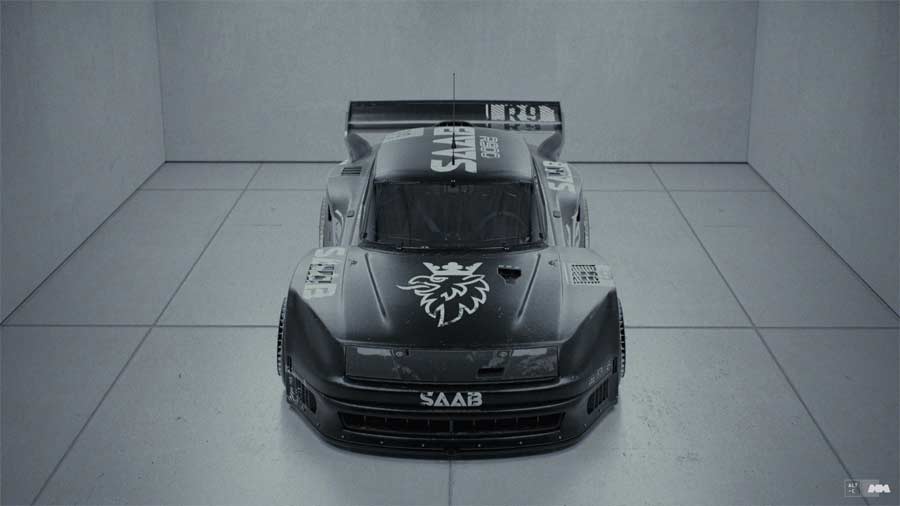 In this example, we can see what the result can be when a kind expert unselfishly sets aside time and invests enormous effort, and uses the extraordinary power of imagination. Fantastic work that revives the legend of motoring in a new, strong light.