Although the global Corona virus pandemic has stopped almost all events and activities of SAAB clubs around world, slowly and gradually some Saab clubs are reactivating the activity and organizing the first gatherings of Saab enthusiasts. The first Saab meeting of the year in Hungary is organized by Saab tuning Club Hungary, it was an itinerary with passing stations in Balatonalmádi, Dörgicse and Káptalantoti.
The 2020 Saab Gastro Balaton Meeting, this is not a very common gathering of "Born From Jets" junkies in the Hungary, but it is certainly very interesting because it combines a love of cars and good food, and is taking place at a very special site – Lake Balaton – a freshwater lake in western Hungary.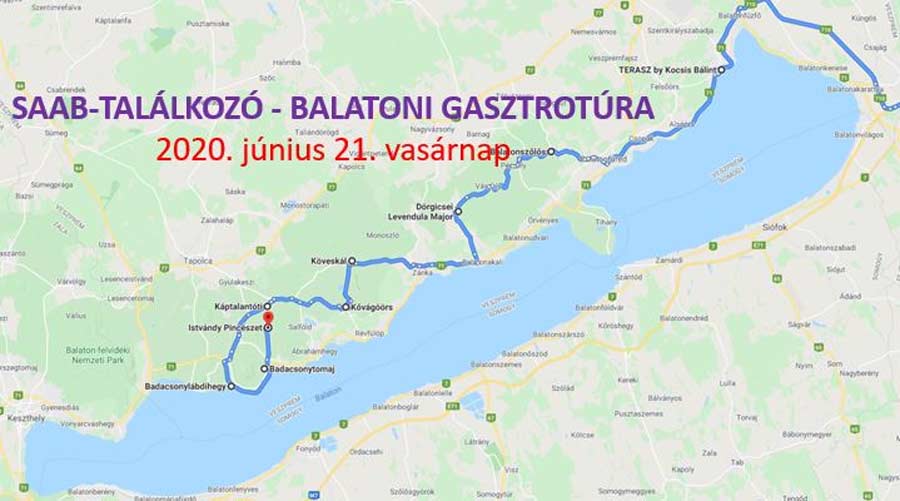 The first stop was the Terrace buffet in Balatonalmádi, where participants could taste delicious beach dishes from Lake Balaton, the dishes are plentiful and the prices are friendly. After lunch they then headed towards Dörgics, traveling the cozy and panoramic roads to the most beautiful lavender garden in the country, where participants could admire the lavender blossom. They reached their final destination via fabulous Káli Basin, driving around Badacsony. In Káptalantót, the terrace of the Istvándy winery awaits them with dinner, a beautiful panorama of Lake Balaton and fun.
It promises to be bursting with energy – and that's exactly what happened at this gathering, a lot of good mood, a lot of beautiful Saab cars and plenty of good food in nearby restaurants. For those unfamiliar, Hungary is a realm of good food.
The organizers of the gathering are very satisfied with the plants and they applaud the members of the Saab tuning Club Hungary for their continued loyalty to the Saab brand, although the brand no longer exists for almost 10 years.Their opinion is different – "Saab is back and back to stay" – and this is an opportunity to thank both the organizers from the Saab Club and all the participants, because we are all working together to make this interesting car brand not end up only in history books.
In addition to socializing and enjoying cars and good food, they attended and voted for the best Saab cars in three categories:
The most special car of the Gastro tour in Balaton 2020
The most beautiful car of the Gastro tour in Balaton 2020
The audience's favorite car of the Gastro tour in Balaton 2020
Presentation of SAAB meeting awards was at the Istvándy winery. Photos from the meeting you can find on Instagram page of the Club and via the hashtag "#saabtuningclubhungary", or alos on photo gallery of FB fan page. The creators of the three most liked photos was received a prize.