June 16th, 1965, Denver experienced one of the costliest floods in its history. Statewide there was an estimated damage of $543 million (which according to NPR is almost $4 billion today). This flood will forever be known as one of the floods that shaped Denver. Check out this pictures showcasing some of the damage the flood did to the Saab dealership in Denver. The photos were taken by Mats Sjodin, and uploaded by Jerry Danner, who witnessed this great natural disaster.
According to Jerry, in that time Dick Catron owned Saab Denver. Dick stored his new cars under the Colfax Viaduct when the Flood of 1965 hit. They floated downstream and landed wherever the ended up. Pictures were taken by Mats Sjodin. Mats was a business partner of Dick Catron and Saab Denver. An amazing piece of Saab car history in America.
Here's a piece of newspaper coverage from a local newspaper of the time:
"Flood damage to 37 Swedish made Saab 96 autos was set Thursday at $48,000 by Richard Catron, president of Rocky Mountain Saab, Inc., at S. Broadway and the Valley Highway. Catron said the new cars were stored at W. 4th Ave. and Walnut St. when the flood hit. Some of the cars floated more than two miles down the South Platte River before being recovered. Catron said the cars will be reconditioned, then leased with options to buy after two years of use. None will be sold as new cars."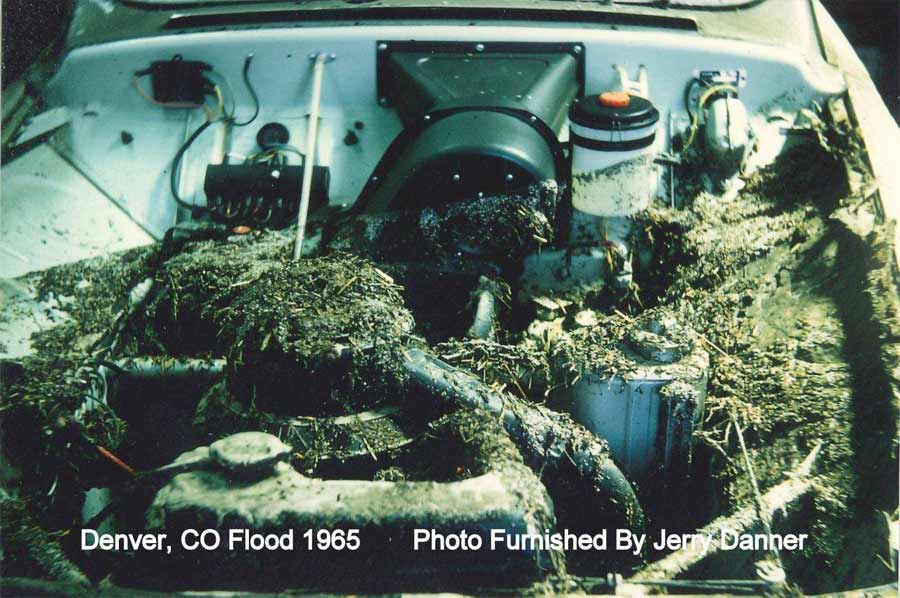 For comparison, the value of 37 Saab cars back then was like the approximate value of a single '11 Saab 9-5NG. in fact, if we convert to today's dollar value, we would have to multiply this amount by 8x and get $384,000 – the value of those Saab vehicles today.