In the world of car enthusiasts, the pursuit of unique and rare vehicles is a constant quest. One such extraordinary find is the Saab 9-2X, a car that was originally marketed solely in the United States as a rebadged Subaru Impreza. However, against all odds, a lone Saab 9-2X has made its way to Europe and now awaits a discerning buyer in the Netherlands.
We will delve into the fascinating history of the Saab 9-2X, its relationship with General Motors and Subaru, and explore this exclusive opportunity for European buyers to own a piece of automotive history.
The Saab 9-2X and its Unconventional Origins
Car development can be an expensive endeavor, and car manufacturers often seek cost-effective ways to bring new models to market. One such method is platform sharing, where multiple brands collaborate on a common platform for their vehicles. In more extreme cases, rebadging occurs, wherein a single model is marketed under two different brands, often with minor design tweaks and distinct badges. The Saab 9-2X, affectionately nicknamed the "Saabaru," is a prime example of such a rebadging venture.
During its existence, Saab found itself in financial distress, prompting them to collaborate with General Motors (GM) to stay afloat until 2011. As a result, GM pushed Saab to utilize their existing products and simply replace the badge, leading to models like the Saab 9-7X, which was essentially a Chevrolet Trailblazer with a Saab front end and no Swedish DNA.
The Saab 9-2X, however, took rebadging to another level. At the time, GM also had a significant stake in Subaru, and Saab was instructed to rebadge the Subaru Impreza station wagon with minimal changes. The Saab 9-2X may have sported a Saab nose, but under the hood, it housed the same 2.5-liter boxer engine found in Subaru's Impreza Wagon. This meant that the 9-2X inherited Subaru's renowned all-wheel-drive system and delightful driving characteristics, though it lacked the traditional "Saab feel."
Saab 9-2X: The Unseen Gem in Europe
Primarily intended for the US market, the Saab 9-2X was not officially sold in Europe. However, against all odds, a unique opportunity has presented itself for European car enthusiasts. A lone Saab 9-2X, reminiscent of its Subaru origins, has found its way to the Netherlands and is now available for sale at a dealer in Zwart for the price of €6,995.
The car in question is equipped with a 2.0-liter engine producing 227 horsepower and, like its American counterparts, has an automatic transmission. Despite its rarity and uniqueness, this Saab 9-2X has had an eventful life.
Originally hailing from New Jersey, it has accumulated some battle scars, including dents and a rust issue. European buyers interested in owning this exceptional piece of automotive history should be prepared to navigate the import process and potential refurbishment costs.
The Appeal of the Saab 9-2X: A Connoisseur's Delight
The Saabaru's appeal lies in its exclusivity. With just a handful of these vehicles known to exist in Europe, owning one is an opportunity for automotive enthusiasts to stand out from the crowd. While its appearance may not be the most aesthetically pleasing, the allure lies in owning a car that combines Saab's unique characteristics with Subaru's reliable and high-performance engineering.
Saabaru Story
The Saab 9-2X is a rare gem in the automotive world, as a rebadged Subaru Impreza that was solely marketed in the United States. The unexpected appearance of one such Saab 9-2X in Europe presents a once-in-a-lifetime opportunity for European car enthusiasts to own a piece of automotive history.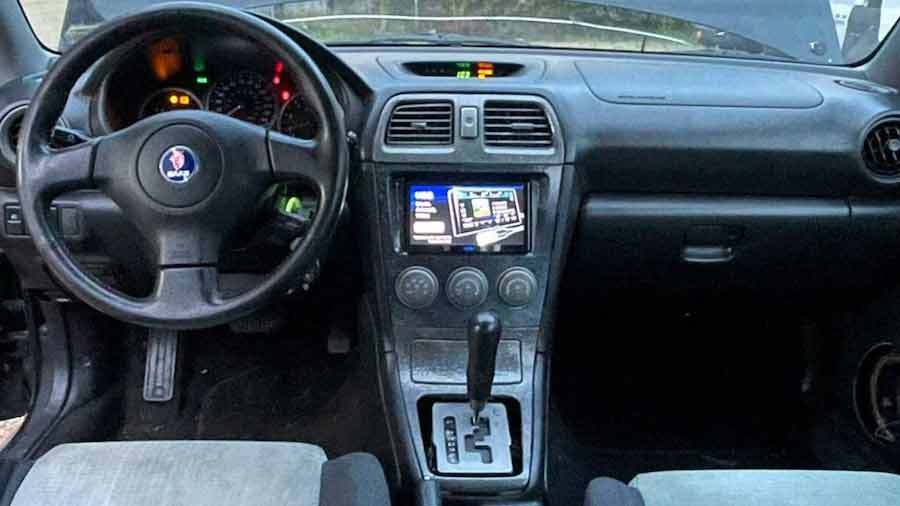 While the vehicle may require some attention and restoration, its exclusivity and unique heritage make it a compelling proposition for those seeking something truly special on the road. The Saab 9-2X remains a testament to the fascinating collaborations and challenges that car manufacturers face in their pursuit of delivering exceptional vehicles to the market.
Whether you are a Saab enthusiast, Subaru aficionado, or simply an adventurous car connoisseur, this Saab 9-2X occasion is worth considering as a unique addition to your collection. So, if you're in the Netherlands and looking for a distinctive automotive treasure, this Saab 9-2X may be the perfect find for you!