This crazed driver had incredible luck, his luck was that he was sitting in the Saab 9-3…
A man (Saab 9-3 driver) was taken to the Baker County (Oregon, USA) jail Wednesday for allegedly leading Oregon State Police troopers on a chase and crashing into two pickup trucks.
Officials say a trooper spotted a 2008 Saab 9-3 driving recklessly and speeding on I-84 near Baker City. The driver, Anthony Yattaw, 26, was allegedly going more than 100 miles per hour. Yattaw stopped briefly when the trooper tried to pull him over at exit 302, but sped off, throwing the trooper to the ground and dragging him. The trooper received minor injuries. Troopers lost sight of the Saab, but it later crashed into two pickups at an intersection.
The driver od Saab — 26-year-old Anthony Yattaw — was arrested after running from the scene. He tried to run away but was caught in a nearby parking lot. Just See Saab wreckage,it is amazing that the driver has no injuries.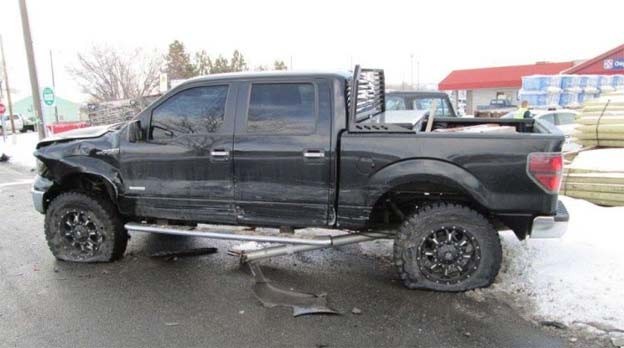 He's accused of assaulting a police officer, second-degree assault, attempted second-degree assault, attempting to elude in a vehicle, attempting to elude on foot, reckless driving, reckless endangering and driving under the influence of alcohol