A group of friends and car enthusiasts (Andy, Tim, Ben and Dustin) from Iowa City last week began work on an interesting Saab project. And they have finished it at the right time, just before the first snows.
They are snow-plow mounted on the car, and not just any car, but Saab 9-2x with drive to all four wheels known for its good traction on snow and mud. They Did this in maybe 8 hours of work. The plow is actually a VW Golf MK1 Rabbit "Snow-way" plow they made new bracketry for.
Here's what Andy Faulkner, one of the coauthors on this project: "Really well actually. Your not gonna move massive compact city plow shit to well unless you hit it a lot but it handled our drive fine. I hit it once last night after I finished up the lights too. I may take a stab at the lower drive after pearl gets home. Kids enjoyed plowing lol."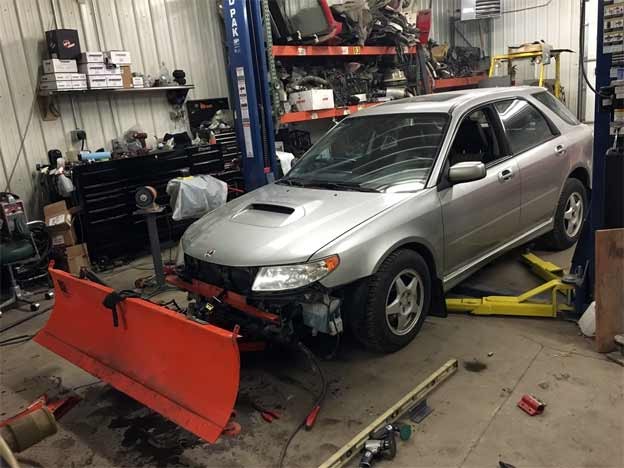 It drives pretty freaking awesomely well in the snow, including the deep stuff. As long as you have fresh all seasons, you should be able to go through anything that the undercarriage can clear.