German cars technical control organization assorts these defect rate reports yearly. A car model have to be tested at least 500 times to be assorted in TÜV and DEKRA report, so statistics are exact enough. But imagine how people use models in different ways.
But from what I can tell, they combine two separate reliability surveys, one by DEKRA and another by TUV. They are published by ADAC-Automarxx, which is effectively the German Automobile Association.
We covered the 2008 ratings back in the Trollhattan Saab days. These are the latest tables, compiled in June 2010. I've got three tables to share. The first of these is for vehicles with up to 50,000kms on the odometer.
Click to enlarge: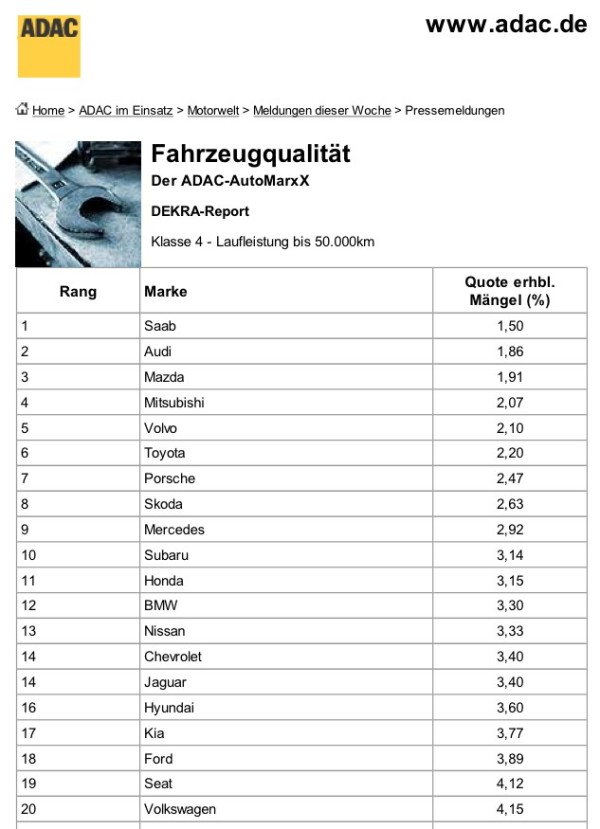 The second table is for vehicles with between 50,000km and 100,000km on the odometer:
Saab 9-3 received an award as the most reliable vehicle in the middle class. With 50,000 mileage, 93.1% of Saab's showed no defect requiring the service and for the 100,000 km, this percentage is still respectable and is 84.2%. The result is a boost for Saab, taking into account that the Saab managed to surpass two major competitors in both categories, Audi A4 and Toyota Avensis.