Do you remember this car Saab 9-3 SRT10 MegaPower, in the pictures that you see is the same car but transformed. What happens when mad tuners of a Dodge Viper remove the 8-liter V10 and transplant it into the engine compartment of a Saab 9-3 SportCombi (painted red in the meantime)?
Now this is "Saab 9-3 Swiper V10", it's red now, the black color was only a primer. Beside the color change, owner Pelle Nilsson have made new rear arches and some other mods.
A freaked out custom build involving a Saab 9-3 and a Dodge Viper V10, sounds crazy? it is!
The car is not 100% finished yet but when it is it will be street legal. The car is built at Wargia Engineering in Sweden by Pelle Nilsson, along with him he have had help from helpfull friends along the way.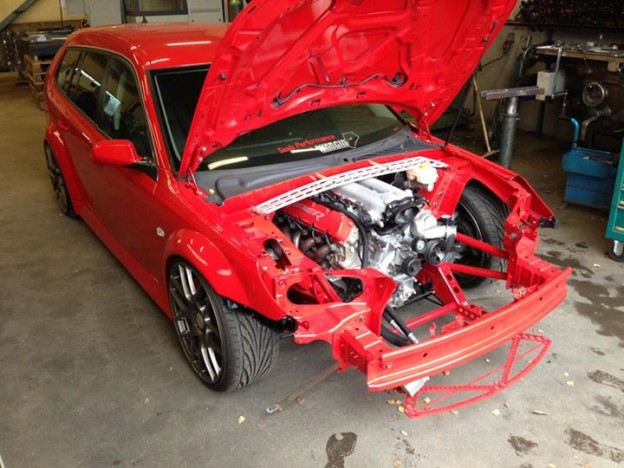 Since both the Dodge Viper and the Saab 9-3 SportCombi are in the same weight class (1.5 tons), it can be assumed that the 100 km / h mileage for the Swedish station wagon can now be lifted in 3.7 seconds. The question remains whether the Saab can reach the 370 km / h top speed of a Viper SRT-10.