This year the Maptun Meet 2015 will happen on Thursday May 14th, so make sure you don't have any other arrangements for that day. Just like last time, the gates will open at 10.00 and close at 15.00.
In addition to the car exhibition there will be offers, demonstrations and other happenings. Private exhibitors will be joined by a number of specially invited partners. Among those bringing cars to the exhibition are Orio (formerly Saab Parts) and Meguiars in cooperation with Mekonomen.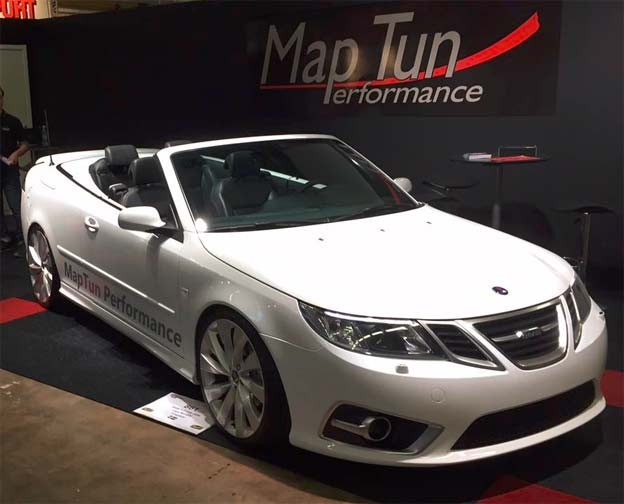 To keep the smallest visitors happy there will also be a bouncy castle. Service and repair customers will want to find their way to our reception. Those who schedule repairs and/or maintenance during the day will be awarded with generous discounts.
A popular event during the day is the demonstration of Maptune Rototest chassis dynamometer. Last year Maptune dynoed Michael Jansson's powerful Saab 9000, which was greatly appreciated to the spectators.
Timetable and exhibitor's information

If you are participating in the exhibition it's a good idea to arrive early. There are about 90 cars, tents and other things getting set up during the morning. The cars will not be parked in categories, but will be parked in order of arrival. First through the gates will be parked closest to the gates. The gates will be opened at 08.00.

Car washing facilities are available immediately outside the gates. OKQ8 Västhaga has also kindly offered to give 50% off the hourly rate to all the exhibitors washing their cars in their do-it-yourself car wash. When paying, show the coupon found on your exhibitors confirmation form to get the discount.

1. When arriving you will be given a number plate. This is to be placed clearly visible in the car, preferably the left side of the front windscreen.

2. Cars will be parked in order of arrival. Cars are not parked in categories.

3. The cars will be judged both by a jury comprising of Maptun staff as well as select Saab people.

4. All cars compete against each other, regardless of model. A single car can win in several classes.

5. All cars will be given points from 1 to 3, with 3 being the highest. The classes are as follows:

6. Best Condition. Which car is in the best condition? High points are given for high age and/or mileage. The general condition is judged, as well as the paintwork and if there are broken components on the car. Both the interior and engine bay plays a great part in this class. The judges will look at upgrades and determine if they have been done in a "clean fashion". Loose wiring and dirty floor mats are a big no-no. Prizes include Gold, Silver and Bronze gift cards valued at 500, 300 and 100 SEK.

7. Best in Show. The most outstanding favourite car of the jury. Prizes are the same as Best Condition – Gold, Silver and Bronze. 500, 300 and 100 SEK.

8. Best Performance. This category looks at engine, chassis and brake upgrades. It's not necessarily the car with the most horsepower that will take the Gold prize, but the car with the best combination and compromise between engine, chassis and brake upgrades. Prizes are Gold, Silver and Bronze. 500, 300 and 100 SEK.

9. People's Choice. Perhaps the most prestigious award! This is where the public gets to decide on their favourite. There is only a single prize, a 1500 SEK gift card.

All gift cards are valid only in the web shop and can't be combined with other discounts or agreements.

In addition to the glory and gift card, all winners get a trophy.

The exhibition and other activities start at 10.00 and during the day there will be a number of presentations. There will be breaks between all the activities to allow visitors to walk around and admire your cars.

Remember not to keep wallets or other valuables in your cars!

Welcome, and have a great Maptun Meet!