Arguably, these days front wheel drive technology allows really serious performance for those on a real-world budget, rear wheel drive generally being found in more expensive cars. There are some great FWD cars but from a performance standpoint it's only benefit is being lighter RWD and especially AWD cars can get the power down to the ground a lot better.
Here's a more detailed explanation about the decision – why Saab has opted for the FWD concept from the very beginning, from the 1961 book "SAAB Guide" by Keith Ayling.
Asked what he considered the most outstanding feature of the SAAB, Bob Wehman, SAAB's Service Manager, answered without hesitation: "Its front wheel drive, which allows you literally to aim the car where you want to go."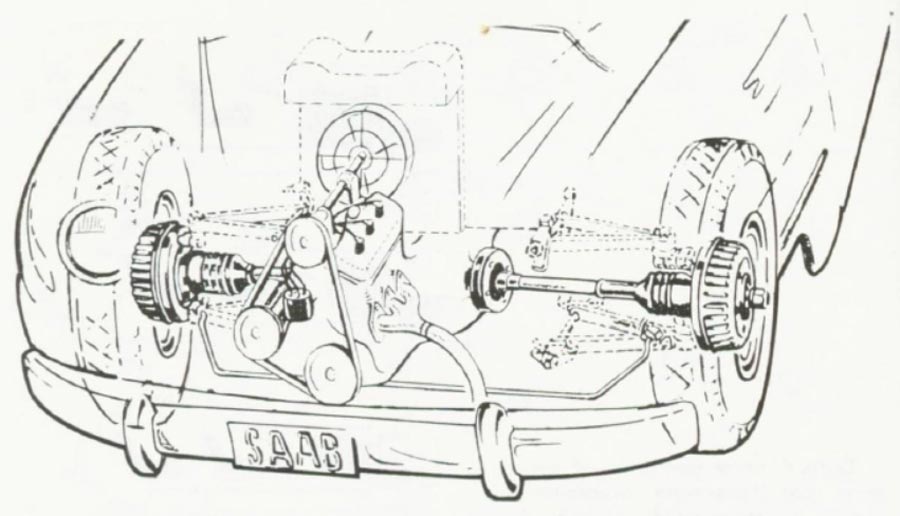 In contemplating a car with so many different features, Wehman's statement could appear to be favorably prejudiced to his company's product; but, on reflection, without front wheel drive the SAAB wouldn't be the car it is. Its steering geometry, springing, road stability, transmission, seating design-the entire car, in fact-are built around front wheel drive to enable the automobile to fulfill a very special function for an established purpose. It is obvious that front wheel drive has numerous advantages over the conventional layout, even though conservative automobile designers have scrupulously ignored it in mass production models.
But then we find a parallel in aviation's neglect of the helicopter, which made successful flights as long ago as 1913, and the reaction principle which is now powering our jet airliners. Similarly, it was left to the SAAB aeronautical designers to use a nose wheel for landing aircraft, and thus eliminate ground looping which was a frequent occurrence with the conventionally accepted tail wheel. After the Swedes had proved that this configuration definitely ended ground loops, it was adopted by aircraft manufacturers throughout the world.
Front wheel drive is not new. An experience in winning my first hill climb with a front-wheel-drive Alvis more than 90 years ago convinced Bob that they really had something, but they had to wait a long time before the knowledge spread and was accepted by automotive designers.
Steering Advantages
How about front wheel drive behavior at speed? Like other front wheel drive cars, the SAAB has a notable characteristic of understeer, meaning that the front wheels are self-centering, with a tendency to align themselves toward a straight course during a turn. For high-speed driving, front steered wheels not only help the driver to return to the neutral position after a bend, but they allow him to get a "feel" of the amount of grip he has on traction surface.
Here's how the SAAB designer sums up his feeling about front wheel drive. "If f. w.d. is employed in suitable combination with other elements, the result is a motor car equal or superior to other types in respect to the fo llowing essential characteristics: comfort, weight economy, space economy, directional stability and handling under all conditions. Indeed, the only significant disadvantage seems to be the inferior traction in climbing very steep gradients with a full load. Although this is admittedly an important case, it is far from being a decisive one."
About Understeering
According to some, FWD also has a disadvantage in extreme situations, Understeer! when unexpectedly there is something on the road, and you are going fast, the front wheels have to pull the whole car to the side
The majority of cars understeer. There are many factors involved, but basically if the engine is up front (and the majority of the weight) the car will understeer if you take a corner too fast and hit the brakes. Now, this isn't the same as loss of traction because you put your foot down on the gas. Then it's simply where the driving wheels are. Up front – you go straight. Back tires – you turn around.
Saab White paper on FWD vs RWD
Interestingly, if you are interested in this topic, and if you want to know more about Saab's commitment to FWD – you can read the entire eleborate he created by Anders Isaksson, a former Saab employee, kindly made available a copy of the whitepaper on his blog.
Ljungström's whitepaper published on his blog Unfortunately is written in Swedish, but anyone interested in this topic will surely find a translation for his language.
Some of the key elements discussed:
Stability
Comfortable
Weight distribution
Center of gravity
Understeering
There are advantages to RWD. While it is true, the weight of the engine gives better traction to front wheels, but RWD makes it easier to achieve 50-50 front-rear weight distribution. The 50-50 weight distribution allow much better handling characteristics on dry roads…