Kurt Vonnegut was an American author, but also owner and manager of an SAAB dealership in West Barnstable, Massachusetts, called "Saab Cape Cod." . In a career spanning over 50 years, Vonnegut published fourteen novels, three short story collections, five plays, and five works of non-fiction. He is most famous for his darkly satirical, best-selling novel Slaughterhouse-Five (1969) – which established him as one of the great American authors of the 20th century.
Vonnegut's claim to have been the "first Saab dealer"… But, it was the 2nd dealership established, so it must have started about 1957. (There are other references that say Vonnegut worked at the 2nd Saab dealership in the U.S.)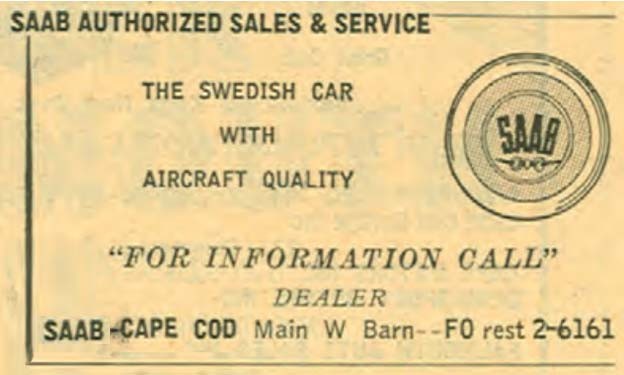 Vonnegut was between books and in need of steady income in the mid-1950s. Selling cars can provide that steady income, so he sold cars… SAABs. Saabs represented an intersection of his fascination with technology and his roots in Indiana, where his family had been in the hardware business. Vonnegut set up "Saab Cape Cod" in a stone building on Route 6A in West Barnstable, operating as sole proprietor with one mechanic on-hand.
"The chief selling point was that a Saab could drag a VW at a stoplight," Vonnegut wrote
The initial luster of the vehicles faded quickly for Vonnegut. As he writes in his essay, "Have I Got a Car For You!," published in 2004, the quart of oil required with each gas fill-up was just one of the quirks that made the vehicle a hard sell. As to going out of business 33 years before the piece appeared in (supposedly) 2004, it was ten years prior, in 1961, that the doors were locked for the last time. That gives only about four years 1957-1961 that the dealership was in existence.
There were other troubles with the franchise besides slow sales and difficult customers. The time spent in the less-than-busy showroom meant more time writing.
The Saabs of the time were not attractive automobiles for buyers. They required the driver to add a can of oil to the engine with each fill-up. "For whatever reason, straight women did not want to do this," Vonnegut wrote. Wrote Vonnegut in 2004: "The Saab then as now was a Swedish car, and I now believe my failure as a dealer so long ago explains what would otherwise remain a deep mystery: Why the Swedes have never given me a Nobel Prize for Literature." :)
In some way, his SAAB story is similar to the SAAB story of Billy Braver.
Over at Vonnegut.com, you can even purchase prints of his doodles on Saab Cape Cod letterhead.