Original SAAB 900 US Turbo Wheels otherwise known as the "24 spoker" or "manhole cover" was the first Saab wheels with conical seat lugnuts. Factory installed on 1982-1984 Saab 900 Turbo and 1982-1986 Saab 900S, the also Factory installed on 1982-1984 Saab 900 Turbo & 1982-1986 900S. It is hard to find these wheels on the market, but fortunately there is a great, exciting replacement.
At the same time, the replica of these wheels was made in cooperation by the German tuning house HEUSCHMID and the famous wheel manufacturer Ronal. It was the return of the cult wheel for SAAB models. The original wheels have been developed at HEUSCHMID in collaboration with Ing. Oberschmitt. Designed in times when no interior cooled brake discs were available. The unique design achieves high cooling rates for heavily used brake discs. The disc temperatures are 80°C lower on SAAB 99/900 models in comparison to standard wheels. It was the  RONAL Turbo R10 model – Exclusively sold as RONAL Turbo R10 via HEUSCHMID (Prices on request).
As long as you keep it to the 1970s and later, it's hard to think of a car these wheels wouldn't suit. They're a new variant of the classic Ronal R10 Turbo, as created for Harald Ertl and his immensely modified Group 5 Lotus Europa, but they make us think of Porsche 935s and 936s and sundry other period race weapons and supercars…
The Ronal Aero 10 is further enhanced, and adapted to the new Saab models, so we got the Ronal R50 AERO model. following on from the R10 with small pocked around the dish for brake cooling. Finished in Ball Polished Surface and produced in 16 & 18 inch in most popular 4 & 5 stud fitments. The R50 Aero is great wheel to give you that Euro look on Saab.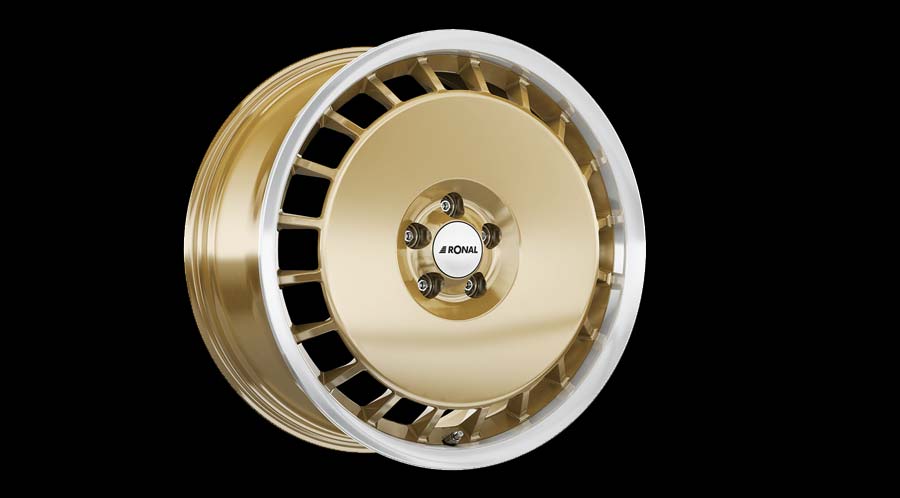 The RONAL R50 AERO wheel with its radial spokes to cool the brakes, and its closed shape with the ensuing aerodynamics, from which it takes its name, has cult status. Besides everything, new RONAL R50 Aero GOLD anniversary wheel impresses not only with its fan-like cult spokes for cooling the brakes and the closed form boasting the legendary aerodynamics, but also with the unrivaled highlight color of gold-racing-rim lip diamond cut. In this way, RONAL breathes new life into the cult of former racing wheels from the 1980s with another very contemporary variant to mark the company's 50th birthday.
The anniversary version of RONAL R50 AERO will be available from 2019 in sizes of 7.5×16 inches (with 4 and 5 hole rim) and 8.0×18 inches (with 5 hole rim) in selected applications. The shapely and functional combination of sportiness, trendy elegance and perfection is excellent for the Saab 900.