In Talladega 1986 and Talladega 1996 projects Saab Automobile performed two endurance tests at the Talladega Superspeedway in Alabama, USA.
This year it is 30 years ago since Saab 9000 were driven in "The Long Run" and 20 years ago since the Saab 900 were driven in the Talladega Challenge.
Two world records and also 21 international record were beat during these almost 21 days long, uninterrupted drive. The fastest of the three 9000-turbo cars put 100 000 km behind and it had an average speed of 213,299 km/h.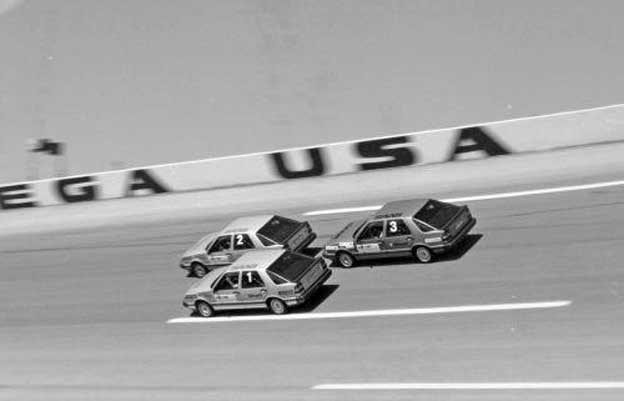 Today Saab Car Museum have two of the three cars in their collection- number 1 and 2. In honour of this world record they are building, with the help from Olle Granlund (the initiator and project manager of The Long Run) a new themed exhibition at the museum.
Saab Car Museum and the Saab Car Museum Support Association invites on Saturday, October 8th to the open house at Saab Car Museum to celebrate 30 years ago drove Saab 9000 Talladega Talladega classic circuit in the United States.
Saab Car Museum / Free admission for Saturday, October 8th.
Open from 11:00 to 16:00
Olle Granlund, initiator and project manage, will give a lecture about theLong Run experienceat 12 pm and again at 2pm, Saturday, October 8 in the Saab Car Museum filmsal.
"The main purpose of the Long Run project is to test the endurance of our cars as part of our ongoing testing program," explained Olle Granlund, head of Saab's engine and transmission department and the person in charge of this project. "The fact that we are, at the same time, setting out to establish international and world speed records certainly adds an extra touch of excitement, and will clearly show what can be achieved by a purely standard Saab."