Wilco Beijer from from a Dutch company Imparts BV sent us an interesting offer, a unique car offered by their company – special 1968 Saab Sonett II V4.
According to his words, this Sonett was beautifully and extensively restored and rebuilt after it was imported from Germany to the Netherlands.
Here's what's in their offer:
Usually these cars must impress their drivers with 73 bhp under the throttle… THIS example has a SweedSpeed tuned engine delivering a stunning 140 bhp to the front wheels! A massive amount of power considering the weight of only 600 kilogrammes! The original 1500 cc Ford V4 engine was given a capacity of 1853 cc and a host of special parts which make it possible to rev-up to 7000 rpm.
The Saab Sonett features a 4-speed manually operated gearbox with steering column shift; this gearbox works perfectly. This rare classic car is fitted with bucket seats, four-point safety harnesses, 123 tune electronic ignition, an aluminium radiator, an automatic electric cooling-fan, an electric Facet 'Red Top' fuel pump, AVO adjustable shock absorbers on all wheels, (boxed) rally type front suspension, a 70 Ampère alternator and a beautifully made Stainless Steel header tank which also acts as a 'strut' between the left and right front suspension.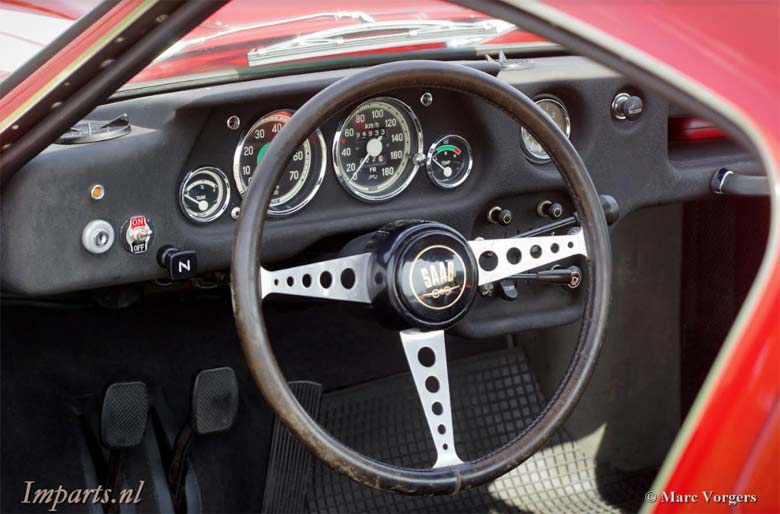 Only 1600 cars of this model have been built, this car is number 813. The Saab Sonett is a real head-turner! This specimen will also be a magnificent 'weapon' to compete in historic (rally) events! The car is currently registered in Germany.
Since the car was special, then it's a special price – an incredible € 35,500…
Also, they offer more classic Saab's for sale.