The Australian Sports Sedan Championship was a CAMS sanctioned national motor racing title for drivers of cars complying with Australian Sports Sedan regulations.
This class, essentially a silhouette racing car class, caters for cars of essentially free construction but utilising some of the bodywork of a closed, series production vehicle. The leading Kerrick Sports Sedans are the fastest tin-tops in Australia, and in some cases, the fastest outright cars on a number of national circuits. Typical race car statistics; 700bhp V8 Chevrolet (or Ford, or turbo, or rotary – usually mid-mounted), 6-speed sequential (often transaxle) gearbox, all with a total weight under 1000kg.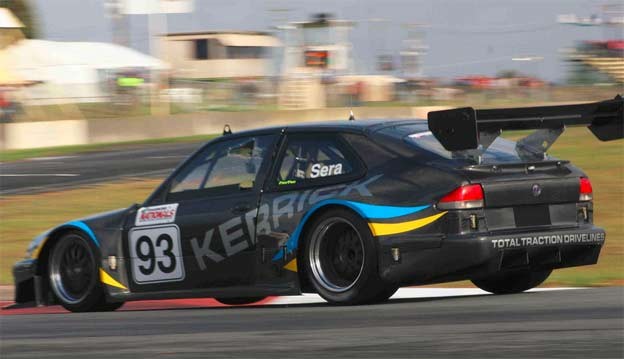 In this championship specifically noted two drivers (and Darren Hossack in Saab 900 in 2004 Tranzam Sports Sedan Series) in the Race model of Saab 9-3. 2010 Series winner James Sera ( see picture) at Mallala Motor Sport Park. This car also won the series in 2006 driven by Dean Randle.
The series 2010 was won by kart racer James Sera, contesting his first national circuit racing series in the Saab 9-3 of 2003 Kerrick Sports Sedan Series winner Dean Randle. Despite missing the opening round of the series Sera claimed the title by 17 points over 2008 champion Darren Hossack (Audi A4). Sera took six wins and six seconds from his twelve starts in a near perfect season.
2006 Australian Sports Sedan season – Win for Saab
Dean Randle's BIG CHRASH at Phillip Island Raceway 2006, Dean Randle driving a SAAB for Kerrick: