After yesterday's discovery of the prototype of future Turkish national car, in which all recognized the Cadillac BLS (based on Saab 9-3), Today the turkish Science and Technology Minister Fikri Işık confirmed in his statement that Turkey purchased all rights to the Saab 9-3, witout right to use brand name!
SAAB 9-3 is New Turkey's National Car!
A senior minister said Thursday Turkey has bought Saab 9-3's intellectual property rights with the goal to develop a Turkish branded car.
"We bought Saab 9-3's intellectual property rights, but not its name," Turkish Science, Industry and Technology Minister Fikri Isik told Turkish TRT Haber (TRT news channel) on Thursday.
"The brand [of the car to be developed] will be a Turkish brand, it will not be Saab," he said. "We will develop the technology in Turkey."
Why it was preferred Saab?
Journalists asked him a simple question "Why did you choose Saab?" and the minister said – "Saab has really good technology. Very good quality, is known for its comfortable and durable vehicles. We thought that Turkey's interests," he said.
According to Işık, Saab was chosen for its advanced technology and reputation as being a high quality, comfortable and durable car. Currently, Turkey has battery technology and electrical drive systems and there are various TÜBİTAK studies
Isik said that, once in mass production, a "minimum 85 percent of car parts will be produced in Turkey". The news comes two days after Isik unveiled three prototypes of the first Turkish-made car. This unveiling was commented by Turkish dailies that noted that the car's general structure was in fact inspired by Sweden-based SAAB's 9-3 model and that the front section was influenced by the U.S.-based Cadillac's BLS model.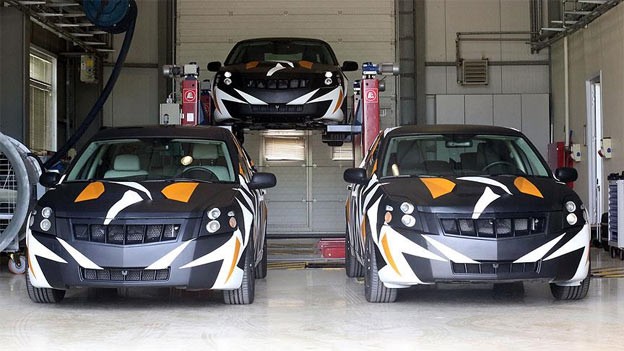 Turkey, which is working to produce its own car, had two choices according to the minister's comments on TRT Haber: to do everything by itself, something which would take three to five years and about $1 billion in spending, or to cooperate with a well-known brand.
Isik said that the talks with Saab to buy the intellectual property rights of the Saab 9-3 model had lasted six months.
"I cannot give figures," Isik said, adding it was a "very affordable cost".
Isik said that Turkey's main goal was to advance in the field of extended-range electric vehicles. "This (the [Saab 9-3] will be a platform for that goal and we began developing it," Isik said.
The minister said that the Scientific and Technological Research Council of Turkey (TUBITAK) will assume the leadership of the project, but "the cooperation with National Electric Vehicle Sweden (Nevs) that developed Saab 9-3 will continue."
In 2020, Turkey will take to the streets a car "everyone will be proud of," Isik said.
"We have calculated the project's costs. It is, however, not rational to reveal these calculations as long as a person agrees to coproduce this car with us," he said, adding that they would invite any candidates to undertake the project as a manufacture. "This technology is now easily accessible to everyone in the world. In the future, it will depend on R&D and innovation for development," Isik said.
"We aim to produce 30-40 vehicles to test in all weather conditions, and then to start production in Turkey by the end of 2019," Isik said.
Işık joined the discussion on Oct. 14, arguing that no car is "100 percent original," daily Hürriyet reported. "Friends, this is only the beginning. The final product will be admirable and will meet the needs of the Turkish people," he said, assuring the public that the car would be "an original model"
https://www.youtube.com/watch?v=sr3jvLXYnOQ