East Of Sweden Inc and Brandon Adams from Swede Fleet Tuning have been working on this Saab project for quite a while. This is 1988 Saab 900 SIS Convertible which we converted to T5.
In fact, Currently Swede Fleet Tuning makes only one man – Brandon Adams. His passion for pushing these swedish thanks to the limits started at the age of 13. His father has been a SAAB master tech since Brandon could tie his own shoes and that and the constant ride alongs fueled his need for "Swede".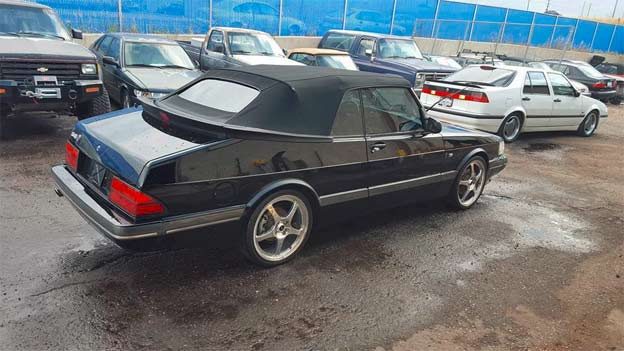 When He turned 14 he started working at East of Sweden, A local Saab specialty shop in Broomfield, Colorado (USA). At the age of 16 Brandon crashed his first car, a Black 1996 Saab 900SE in a 100mph roll over being a wit showing off to his friends, which thankfully they all walked away from. Then he started to get into the performance side of things.
This beautiful Saab 900 SiS Convertible is just one in a series of performance projects.
Fresh motor rebuild with a 2.1 head/intake manifold, NEW 91′ SPG Turbo, Clutchnet stage 3 clutch kit, do88 hoses, HOT Cams, abbott racing exhaust and then converted to T5 w/ flywheel CPS pickup and tuned by yours truely.
What is Saab SiS? – "
Springtime in Sweden

"

In 1988, Saab commissioned 288 special convertibles, one for each of its United States dealers, as part of the 1988 Dealer Meeting in Sweden. Dubbed the "Springtime in Sweden", or "SiS" model these cars are differentiated by their Aero/SPG-like bodywork and 3-spoke wheels.
Each car was painted black, with buffalo grey leather interiors and black convertible roofs. Each car was marked with a special "Springtime in Sweden" emblem that was attached to the lower left of the glovebox door. The emblems were all identical and are not serialized.
All were Turbo models. Of the 288 built, four were automatics and the remaining 284 had 5-speed manual transmissions. Emblems on the exterior body were deleted in the scheme of the SPG, with only the word SAAB and the Saab-Scania roundel on the trunk appearing on the car. Read more about SiS Saab models on Wikipedia.