When it comes to high-tech features, luxury car drivers get all the love. It's true for massage seats, neck warmers, and self-parking systems. And it's true for head-up displays, which project information onto a car's windshield, so the driver can see how fast she's going and what song is playing on the radio without taking her eyes off the road. The technology has been in fighter jets since the 1950s, and auto makers have been toying with it for nearly three decades. But the cost of the technology has confined it to the luxury market.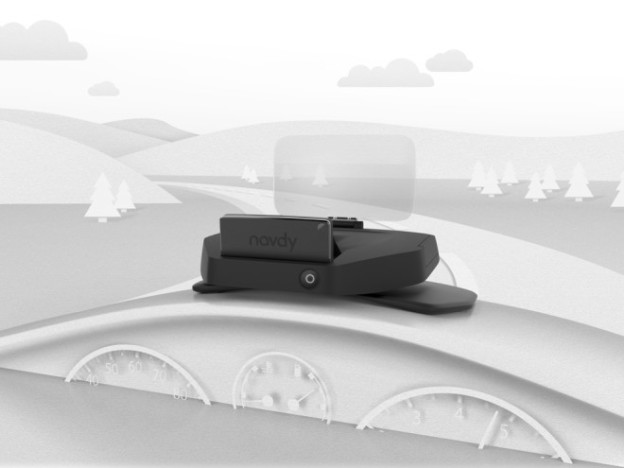 Not anymore. San Francisco-based startup Navdy has created a head-up display that sits on your car's dashboard and displays information from your smartphone on a 5.1-inch wide glass display (usually, the display is built into the dashboard, and projects images onto the windshield). For $499, it gives any recent jalopy (it plugs into the OBD II port found next to the steering column on any car made after 1996) an intelligent display, along with gesture and voice commands. It will ship in early 2015 and is available for preorder.
The idea has already been implemented in cars like the 2014 Mazda 3, with its Active Driving Display. Like Navdy, rather than projecting onto the windshield, Mazda's system shows info on a small glass panel that sits behind the instrument cluster. It even folds down when you turn the car off. For both Mazda and Navdy, this approach may seem clunky, but for the windshield to work with a projector, it needs to be specially treated. And if it cracks, replacement is all the more expensive.
Navdy is among the first aftermarket head-up displays in the United States. Pioneer released a similar type of bolt-on system for just under $1,000, but it's so far been only available in Europe. Then there's Google Glass, which Mercedes-Benz has been busy trying to integrate into its cars. Despite a few legal hiccups, like apotential ban in West Virginia, Glass achieves the same goals of the Navdy in a smaller, more expensive package. For now, though, the smartphone remains the tool around which car manufacturers and companies like Navdy are basing their designs. Regulators will have their say, naturally. Some state have laws dictating the maximum size of a windshield-mounted devices (in California, the the limit's 5 x 5 inches, so the Navdy's acceptable).
Whether or not our brains can safely handle dictating text messages during a highway merge hasn't been clearly established. Some evidence, including a AAA study, points to no. But if people are determined to futz with their phones while driving (they are), these devices are a good compromise. That is, until autonomous cars let us text all we want, while they do all the driving.