Here is another of the many Saab stories around the world. This is the memory of one of the great Saab enthusiasts of Connecticut and his Saab story. We are transmitting this Saab story here to protect it from oblivion. This article appeared in the "Sense of Saab" published in Japan, and many thanks to the unknown translator who managed to convey Robert's spirit to us.
Robert Alexander Blauner a.k.a. Stephen W. Falken passed away on November 12, 2000, after 5 1/2 years of treatment for Hodgkin's disease. His spirit lives on and his Saab is being used with care…
Robert's Saab story
• Occupation: Computer Consultant, Compucore Data Systems CEO
• Web name "Prof. Steven Falken"
• Age: 23, Living with parents in Easton, Connecticut
• SAAB owning history: 1988 SAAB 9000 S and 1998 SAAB 9000 CSE Turbo
"This area in Connecticut will be covered with flowering Dogwood trees in the upcoming month", Robert said. He is only 23 years old and is a well-satisfied SAAB owner, although it is better to say that he is a person who loves his SAAB. He is crazy about SAAB. When he was 17 he was exposed to SAAB. This was at the same time he received his driver's license.
"When I was at boarding school one of my friends was a car fanatic. He always praised SAABs. Coincidentally my mother's friend, who is a car dealer, had a 1988 SAAB 9000S for sale. I didn't have to think about it twice. This car was a money pit; it was cheap, but as a general rule, that meant it was in bad condition, so I cried over the repair bills. They charged $70.00 per hour and it was hard to get parts".
However, he is not the type of person to give up. His next car was also a SAAB. Based on his experience, he started a website that provided information on where to get parts and how to buy and sell SAABs. If I were to explain it in Japanese terms, he has the personality type of someone who never falls and gets up empty-handed. That personality is also reflected in his private life.
He was diagnosed with Hodgkin's disease (cancer of the lymph system) just before he graduated from high school. He entered Yale University but gave up because his energy was depleted by his medical treatment. When he was 18 years old he founded his own company based on his experience as a network engineer, which he did part-time since he was 15 years old. His office is in his basement which he shares with his father's tools and his mother's household appliances and he is the sole employee.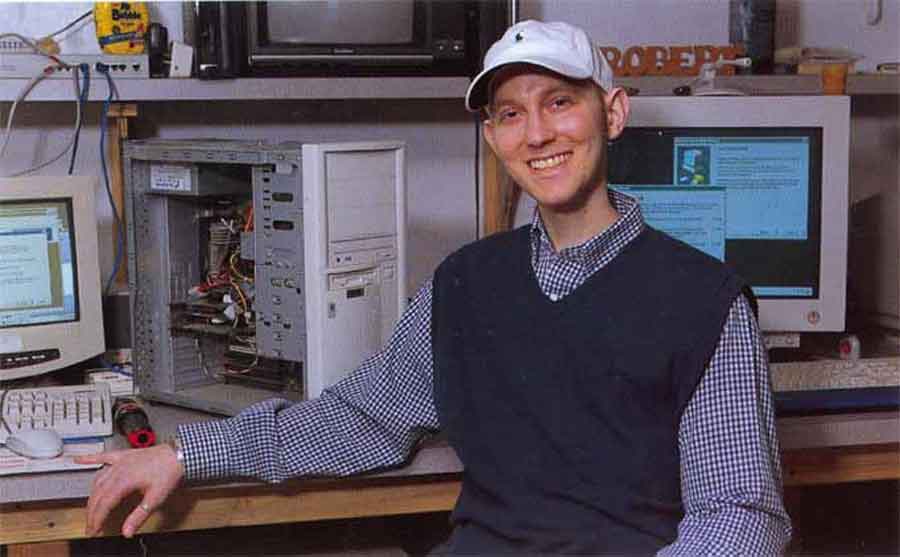 "I can work at my own pace and rhythm and because I have been playing with computers since I was 11 years old, and they are very logical, I don't feel any stress". He is facing his illness in his way.
At the end of last year, he started a web company with a friend who is a medical student. This site is aimed at teenagers and provides accurate information and guidance about health and physical conditions. Listening to him, I am inspired by Robert, who never gives up.
I got in his car and he offered to show me the Connecticut shoreline. " The 9000 model has been around for many years and its legacy borrows from aircraft technology, which gives me a warm feeling. Oh, wait, this warmth (that I am talking about) is different than the seat heater's warmth".
The car filled with laughter and a warm atmosphere. "Please look at my favorite view", Robert said about the Long Island Sound, which was covered in spring colors when we arrived there. Oh, what a wonderful sound! What a warm person Robert is! When I returned to Japan I immediately logged onto http://www.saab.net. The news that Robert was interviewed by reporters from Japan was added to the site. So I responded with an e-mail. " Hi! How are the SAAB and Robert doing?"