It all started in the early 80's when Arwo Pullola from Filipstad got the inspiration for a car-camper, which later was renamed to Toppola. (Photo Credit Staffan Vilcans)
The word came Toppola of "Top" – on top, and "ola" is a (more of a Finnish sounding) förfinskning of the ending when Arwo strains from Finland.
Toppola is a brand of camper shell originally made for the Saab 99 combi coupé. By removing the hatch and putting on the Toppola a car could be converted to a campervanin about 15 to 30 minutes. It is also just as easy to lift the top off and reattach the hatch door and use the car without the Toppola.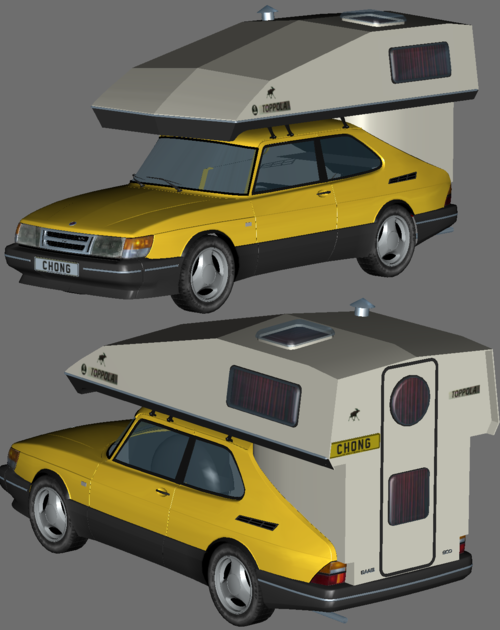 Even if the unit looks small, it features full standing height (2.0 m) and a 170 by 200 cm bed. It could be fitted with a complete kitchen and even a heater for use during winter. The total weight addition is about 115 kg, so the unit is very light.
The Toppola was first made for the Saab 99, but later also Saab 900, Saab 900 (NG), Saab 9000, Saab 9-3 and Ford Sierra and Scorpio. Toppola "1" was produced in 3 generations.
Generation 1
Black wayvy underneath, white top, backdoor at left side. The Toppola seams to "tip down" backwards when weiwed from the side.
12 Toppolas were built in early 1981-1982.
Generation 2
Still the door at left side, flat underneath, black with white top. Produced from
summer 1982.
Generation 3
From now on the door was placed in the middle of the backside. Wood interior (year 1983-1984). The wood-interior was a demand from SAAB (but it was rather heavy). 1984 got small "nautic"windows on both sides, new carpet inside at the walls and roof and as an option a Wallas-heater. At the end of 1984 the Toppola was grey with white top. The black colour tended to bubble itself in hot sunny days.