A Saab guy from Lithuania sent us his Saab story and story about how he found himself in the world of Saab cars. His name is Thomas and he is currently the proud owner of this beautiful Saab 9-5 Aero.
This is his third Saab, he is in love with Saab's since his first Saab 9000 2.3 (MY1994). That 9000 was specific because it got its 107 kilowatts power without a turbocharger. The car didn't have too much power, but as Thomas himself testified, he was incredibly comfortable, which is why he owned this car for about two years.
then he bought his next Saab – Saab 9-5 MY2001 with B235e engine. Unfortunately, this car gave Thomas great worries and he Had alot of troubles with that car. But also luckily, his love for Saab's dont gone. He drove this car with more or less success for aboute three years.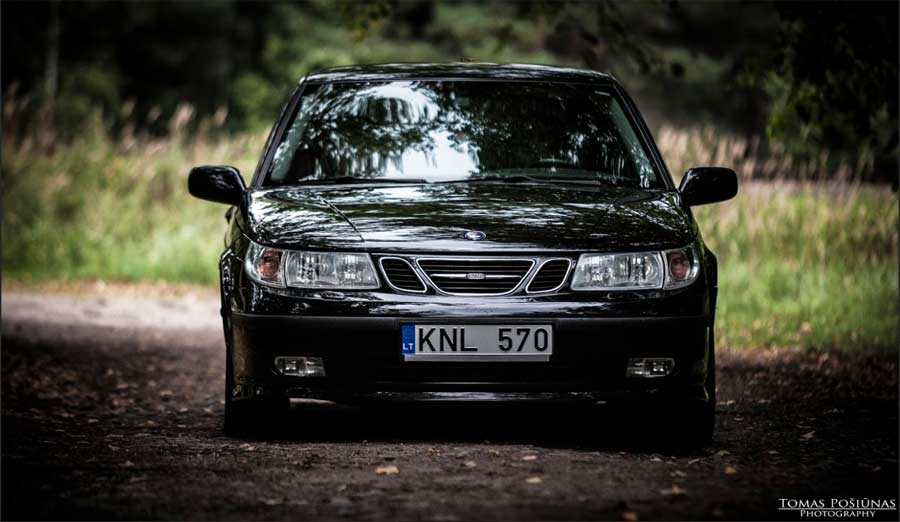 And then, during 2018 he bougt his so dreamed Saab 9-5 Aero MY02 with manual transmission. This car was just the one he had always been looking for – rust-free and with a few miles on the clock – 220,000 km (not really that small, but quite ok for longer use and upgrades) – exacly what he was looking for.
First mod for it was subframe bushings to pholyretan. Then with his frends in garage made custom 3-inch downpipe. then he put it on 3.5 bar fuel pressure regulator and his Saab map was send strait to Noobtune for stage 3 upgrade. After upgrading the software, the car was completely polished and Thomas acquired special wheels – brand new 3SDM 008 R18 replica's and it was ready for summer.
Unfortunately, last summer he experienced a accident – a tractor hit the back of his car. All rear was crashed, so he bougt full rear swap from MY06 Sedan (remodeled rear end), painten and litle bit tinted his rear lamps. Everything was brought to a previous state.
For this summer he has saved another cosmetic nature upgrade – Thomas bought a sharkthoot front Aero bumper which is now in the paint shop, and right now he is looking for a after market lip to fit this bumper. As he says – he "can't wait to get the whole car done", and we trust him…