The Saab 9-7X was Saab's first SUV. It debuted in 2005 and was on the market until 2009. Interestingly, although it has never been sold in Europe, several 9-7x can still be found on European sales lists, ranging from 9,000 to as much as 30,000 euros. This most expensive one was recently sold, but it was practically a new car.
To remind you, When Saab went bankrupt back in 2011, it did not come exactly like lightning from clear skies. The many years the company was owned by American GM was characterized by limited resources and many strange choices of management.
When GM finally threw away the cards after the financial crisis of 2008, things went from bad to worse. Saab was taken over by the tiny Dutch car manufacturer Spyker. They lacked neither visions nor dreams. Unfortunately, there was less money. Thus, things went as planned, Saab disappeared as a car manufacturer. Unfortunately for all of us Saab fans and admirers around the world, new Saab cars will not be on the market for at least some time (many of us hope that the parent company Saab AB could return to car production at some point). But of course, these cars will still be with us. 
Is it possible to find a new 9-7x
One of these most special Saab cars, which is practically new with only 800km driven, has just been sold in Europe on the used car market for almost 3000 euros. It's called 9-7X and is a huge SUV. Ever heard of it? Then you are sorry because this car was never sold new in Europe.
That GM never quite figured out what they wanted Saab to be, this car is a good example of. When the SUV wave took off around the year 2000, Saab was left on the old platform, almost completely unprepared and surprised. Only a few hundred copies of this Saab SUV model were sold.
But at that moment, something had to be done quickly for Saab to ride the oncoming SUV wave – GM knew the recipe. They grabbed an outgoing SUV called the Oldsmobile Bravada and decided to make a Saab out of it. That is, they did not do that, they just gave it some Saab elements on the outside and inside.
Good idea on paper, but in reality …
The Chevrolet Trailblazer is one of the more well-known models on the same platform. We are talking about a huge SUVs of the type Americans loved and still love. The idea may have been good in the Excel sheets of Detroit designers and planners. A fully developed model, not much cost to Saab it – and a brand that was perceived as more exclusive than both Oldsmobile and Chevrolet. This should be a success, right? 
In retrospect, we know that it certainly did not go that way. Just over 80,000 copies of Saab 9-7x were produced from 2005 until the car was discontinued in 2009.
9-7x in Europe
If you live in Europe, and if you would now like to buy a Saab 9-7x now that would be possible, but the choice comes down to just 5 cars. In fact, there are 4 cars because one, the most attractive one with only 800 km driven on a clock, was recently sold for an alleged € 28,750!
It is practically a new car from the middle of 2007, which was obviously parked somewhere in the garage, and it was not driven or used, which can be seen from the photos of the interior. And here it's not just the size that is XXL. The same goes for motorization.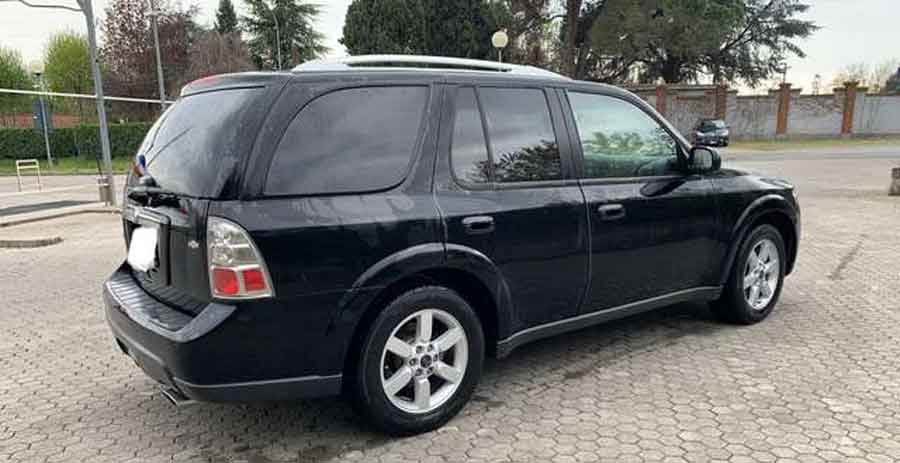 Here we find a 4.2-liter petrol engine with 290 horsepower.We are of course talking automatic transmission, the forces are distributed to all four wheels. In addition to this engine, you can also find a model with an engine with an even larger volume of 5.3 liters in the ads. Of course, The list of equipment is also as expected on a car like this: It is long!
Anyway, if you are a European fan of the XXL SUV that still carries the Saab brand, you have 4 options at your disposal, and the prices range from 9 to 16 thousand euros.