In the ever-evolving world of automobiles, few stories are as captivating as that of Saab. Once a prominent player in the automotive industry, Saab faced bankruptcy and halted production over a decade ago. However, the demise of the company didn't necessarily mean the end of its popularity.
A surprising and heartening turn of events is now unfolding in the Netherlands, where Saab cars, despite being absent from new car showrooms for more than a decade, are experiencing a notable resurgence in sales as used vehicles. This unexpected trend has garnered attention from enthusiasts and industry experts alike, prompting a closer look at the factors behind this remarkable comeback.
A Resilient Legacy
In recent years, we've witnessed instances where the bankruptcy of a company leads to a rapid decline in the desirability and value of its products. This was evident in the case of VanMoof bicycles, where uncertainties about parts availability caused a significant drop in prices.
However, Saab's story has taken a different trajectory. Despite the absence of new Saab vehicles on the market for more than a decade, the brand's popularity has endured, illustrating the enduring appeal of their vehicles.
Saab's legacy is built on distinctive design, advanced engineering, and a unique character that sets it apart from its competitors. These traits have proven to be enduringly attractive to a certain segment of car buyers who appreciate not only the functionality of a vehicle but also the emotional connection it fosters. As a result, the Netherlands has become a surprising hotspot for the Saab brand, with used models making a resurgence in the automotive landscape.
A Dutch Revival
The Dutch automotive market has witnessed a striking resurgence in Saab's popularity. In 2022, a total of 444 imported Saab vehicles found their way into the Netherlands. Impressively, the momentum continued into the current year, with 268 Saab models having already been imported. While these may not be brand-new vehicles, the influx of these imported Saabs highlights the enduring demand for the brand's vehicles.
The models that dominate this resurgence are the Saab 9-3 and Saab 9-5, with occasional appearances of the 9-4X. This trend becomes even more intriguing when one considers that most of the imported Saabs are at least fifteen years old, falling within the youngtimer category in the Netherlands. Under the youngtimer regulation, the tax addition for these vehicles is calculated based on their current value, making them an attractive option for those seeking value for money.
The Allure of Saab
The revival of Saab in the Netherlands is not just a coincidence. It speaks to the enduring allure of the brand and its vehicles. While there are numerous other fifteen-year-old vehicles available from brands that are still active, a significant number of buyers consciously opt for Saab. This choice is a testament to the unique appeal of Saab cars, which manage to evoke nostalgia, admiration, and a sense of individuality.
Furthermore, the availability of Saab specialists across most parts of the Netherlands plays a pivotal role in maintaining the popularity of these vehicles. With a robust network of experts and repair shops dedicated to Saab models, owners can be confident in their ability to keep their vehicles in optimal condition. Additionally, the company Hedin Parts (formerly Orio) continues to produce new parts for Saabs, ensuring that maintenance and repairs are not hindered by a lack of available components.
The Diversity of the Market
One intriguing aspect of Saab's resurgence is the diversity within its used car market. The range of prices for these vehicles varies significantly, catering to a wide spectrum of buyers. From older Saab 9-3 models available for a few thousand euros to meticulously maintained 9-3 Convertibles from 2008 commanding prices nearing 30,000 euros, the market accommodates both budget-conscious consumers and those seeking premium options.
The availability of Saab 9-3 Sport Sedans with turbo V6 engines priced at over 20,000 euros highlights the enthusiast segment that values performance and unique engineering. Additionally, the Saab 9-5, often referred to as the "glasses" model, is accessible for less than 10,000 euros, providing an affordable entry point into the world of Saab ownership. Even the Saab 9-7X, an SUV offering, can be acquired as part of the youngtimer scheme for less than 7,000 euros, showcasing the brand's diverse offerings.
The Enduring Spirit of Saab
The resurgence of Saab in the Dutch automotive market is a testament to the enduring spirit of the brand and the remarkable connection it establishes with its enthusiasts. Despite the absence of new models and the challenges posed by bankruptcy, Saab's legacy has managed to captivate the hearts of a dedicated group of buyers in the Netherlands.
This phenomenon showcases the power of distinctive design, engineering excellence, and a strong community of experts and enthusiasts. As Saab cars continue to find new homes on Dutch roads, it's clear that the allure of this iconic brand remains as strong as ever.
Saab's Newest Offerings on the Dutch Used Car Market
Those fortunate enough to own a Saab tend to cherish them, and this sentiment is reflected in the remarkable longevity of many Saab vehicles on the road. Despite the passage of time, Saab's legacy persists, with enthusiasts seeking to acquire the newest available models from the brand. This desire has culminated in a fascinating list of relatively recent Saab gems that are currently up for sale on AutoWeek.nl.
Here are five examples of great and interesting Saab cars that you can currently find on the Dutch market (Pay attention to the prices):
Saab 9-5ng 2.8T Aero XWD – 2013 – € 32.450
In a surprising twist, a Saab from "2013" emerges as the newest available option. While Saab officially departed the scene earlier, this particular model was only registered in 2013, making it a mere 10.5 years old. This Saab 9-5 stands out as the ultimate embodiment of the ultimate model.
Boasting a potent 2.8T-V6 engine, an 'Aero Eksclusiv' trim level, and XWB four-wheel drive coupled with an automatic transmission, it's undoubtedly a standout. The addition of distinctive wheels, an eye-catching rear spoiler, and purported Hirsch tuning to increase power to 330 hp make this Saab 9-5 a remarkable and exceptional find.
Saab 9-3 2.0T Turbo – 2012 – € 16.500
Another strikingly recent Saab emerges in the form of the smaller and more affordable 9-3, initially registered in 2012. This version, equipped with a robust 210 hp 2.0-liter engine, showcases Saab's commitment to performance. The presence of orange 'side markers' in the headlights reveals its American origin, a common trait among relatively young Saab models.
Saab 9-3 Convertible 2.0 Turbo – 2011 – € 24.950
The American influence remains evident with the third entry on the list, a Saab 9-3 Cabrio originating from Illinois. Sharing the same engine as its predecessor but adorned with a different body, this convertible exemplifies the magic associated with a Saab Cabrio. As a testament to the brand's legacy as a pioneer in modern four-seater convertibles, this model is expected to maintain its appeal for years to come.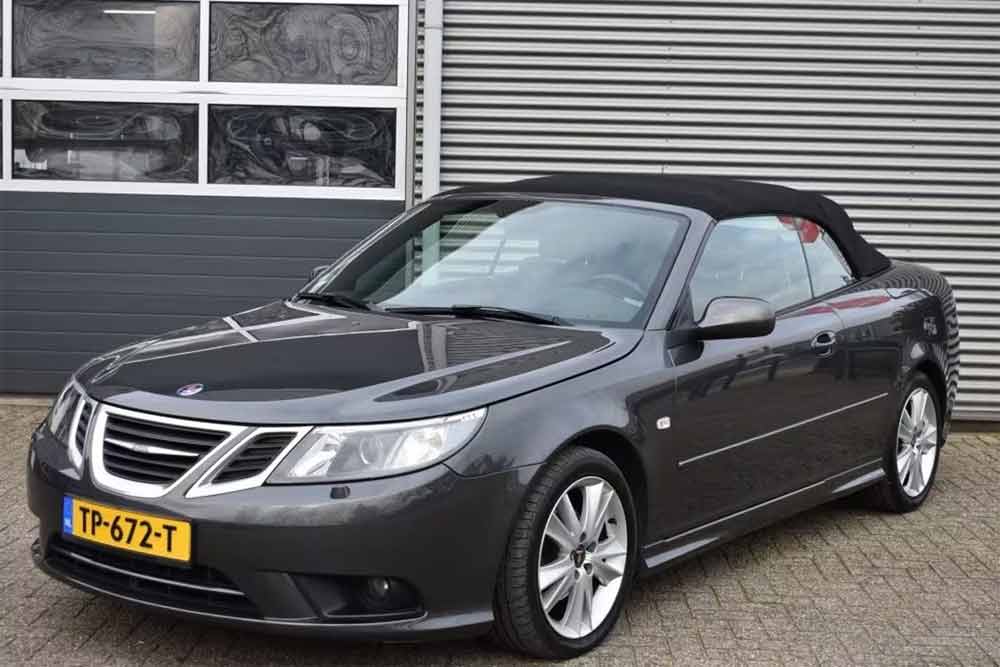 Saab 9-3 Convertible 1.8T Vector – 2011 – € 23.835
Offered for slightly less than the aforementioned Cabrio, a gray Saab 9-3 Cabrio from 2011 awaits in Deventer. Powered by a more modest 1.8T engine (a 175 hp two-liter variant), this Saab showcases European history and boasts a relatively low mileage of 144,904.
Saab 9-4X – 2011 – € 47.500
For those seeking a discreet yet extraordinary driving experience, the black 2011 Saab 9-4X fits the bill perfectly. Although the Saab 9-4X had the potential to revitalize the brand, its fate was sealed despite its impressive features and design.
With approximately 800 units built, this SUV offers exclusivity that rivals even a Ferrari F40. However, potential challenges may arise due to the limited availability of 9-4X-specific parts. Equipped with a V6 engine, four-wheel drive, top-tier features, and a low mileage, this SUV stands as the most expensive option on the list.
Closing Thoughts
In a surprising turn of events, Saab's legacy persists in the Dutch used car market. Enthusiasts and newcomers alike are drawn to these relatively recent Saab models, which embody the brand's distinctive design, engineering excellence, and enduring appeal.
As potential buyers explore these options, they'll discover not only the cars themselves but also the remarkable story of a brand that continues to captivate hearts and minds even in its absence from new car showrooms. Whether it's the allure of a Saab Convertible, the power of a 2.8T-V6 engine, or the exclusivity of a Saab 9-4X, these offerings prove that the spirit of Saab lives on.