Last week Saab Original team took their Parts for Life car and headed south to meet Sarah Moberg, a 27-year-old girl who has a Saab 9-3 Aero TX, MY10, which she wants to refine into a Saab 9-3X (sedan variant). 
The challenges have been many for Sarah, but with both ideas and a great commitment she is well on the way, and Saab Original team are very impressed with the similarity to the factory-produced 9-3X that left Trollhättan in 2010.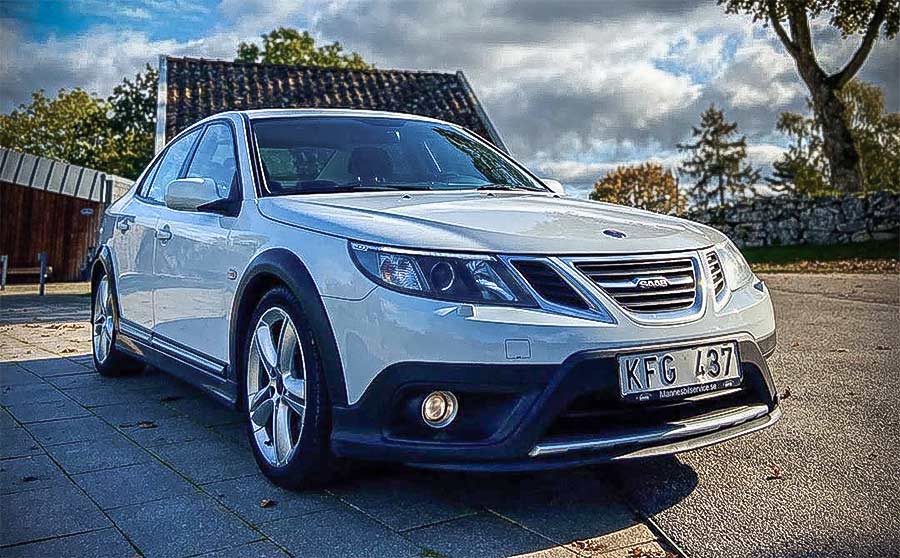 What is special about this case is that Sara's car is a sedan/saloon, and such variant of 9-3X was never made in Trollhättan. If Saab Automobile had decided to make this variant, then maybe Sara's design would have been a role model. Everyone who saw this car has no dilemma, everyone loves what she does, and again, like most passionate Saab owners – they show their passion for the car and are good ambassadors for the car brand Saab.
You can also follow Sarah on Instagram through her account @oursaablife – the photos as well as the Saab cars are really exceptional.
Facts about real Saab 9-3X
Here are some facts about Saab 9-3X. 9-3X was launched MY2010. The 9-3X with the XWD is fitted with 2.0 turbo 210 hp / 300 Nm, also as BioPower, and a 35 mm higher chassis. A front wheel drive version is available with TTiD 180 hp / 400 Nm and 20 mm higher chassis. The gearbox can be either a 6-speed manual or a 6-speed Sentronic.
The car has a unique X version with 17″ wheels, unique X interior with sports seats, double visible exhaust pipes. It is also equipped with Contrast decorative rims, unique bumpers incl. inserts, hashtags for the undercarriage, and robust threshold plates.
If you have a car that you have refined or maybe otherwise rebuilt, please upload your picture in comments below.