The Turkish "national car" project would be based on the Saab 9-3 platform with close cooperation with Nevs engineers about the manufacturing. Prototypes which sparked widespread debate over their originality were made in Sweden and purchased for 40 million euros ($45 million).
The prototypes of the future "national" cars announced on Oct.15 by Turkish minister Işık initiated a social media storm due to their resemblance to the Cadillac BLS, a restyled model of the Saab 9-3.
Yesterdaz, Turkish daily Hürriyet released documents revealing an agreement (The Demo Car Agreement and Addenum) worth 40 million Euros between TÜBİTAK and NEVS, dating back to March 2015. The agreement foresaw the delivery of 4 prototypes by the end of nine weeks, ahead of the June 7 general elections.
Reports indicate NEVS failed to deliver two of the prototypes named "Phoenix" on time, while the electric car did not function properly. In return, TÜBİTAK made an additional agreement on May 29, 2015, providing an extension and demanding the improvement of the prototypes.
4 demonstration vehicles:
Demonstrator # 1 – Phoenix 1.1 Sedan EREV
Demonstrator # 2 – Phoenix 1.1 Cross-over wagon EREV
Demonstrator # 3 – Phoenix 1.1 EV sedan
Demonstrator # 4 – Phoenix 1.0 Wagon ICE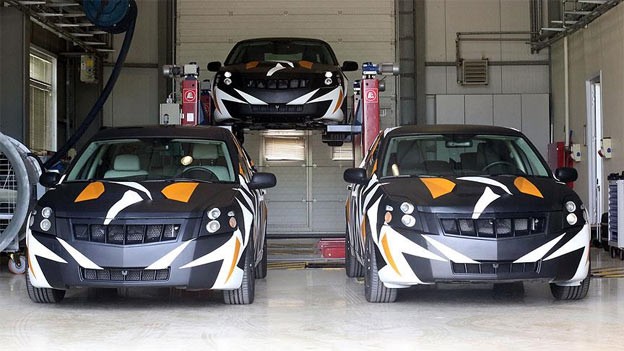 While TÜBİTAK pushed NEVS to deliver all 4 prototypes ahead of the repeat elections on Nov. 1, the only functioning prototype was the gasoline-powered vehicle. Hürriyet underlined that while the SUV prototype was not delivered at all, the highly-advertised electric car was still not functioning.
According to reports, the Swedish-made cars would be "re-created" by Turkish engineers at the Marmara Research Center of TÜBİTAK (The Scientific and Technological Research Council of Turkey). TÜBİTAK is set to install its locally-made electric motor, battery and software to the Swedish prototype in order to "nationalize" the car.