We are just witnessing an incredible event – The Dutch Saab Museum is selling the entire Unique collection of the most special and original Saab cars. In the Dutch village of Aalten there is a unique private Saab museum, and the founder of this museum is Anton Kempink.
Anton Kempink has been collecting and driving Saab for more than 40 years. He won three times the prestigious Viking tour of Saab Club Netherlands and was co-organizer of the 25th anniversary of the aforementioned club.

Not just a collection, but a collection of special Saabs that mirrored 70 years of Saab cars. For years and for years they were collected everything from Saab. Now they are on age that they had to say goodbye to their Saabcars and other parafinalia.
The founders of the museum are proud of a very unique collection of the most special and original SAABS. Also, Very special brochure material of all models – From the early years of Saab to and including the last produced models.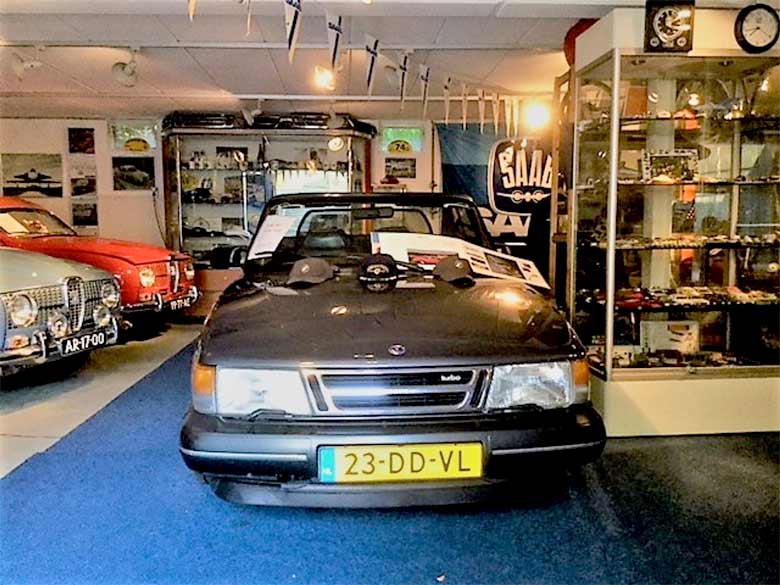 Alos, this Saabmuseum also contains a large collection of Saab toy-cars. Include Saab 006 with engine, pedal cars Saab 96 model 1960 and a 900 pedalcar, pins, watches,cups, ± 100 posters, a collection of books, books from Eric Carlsson, and a collection of KREIDLER mopeds and so on.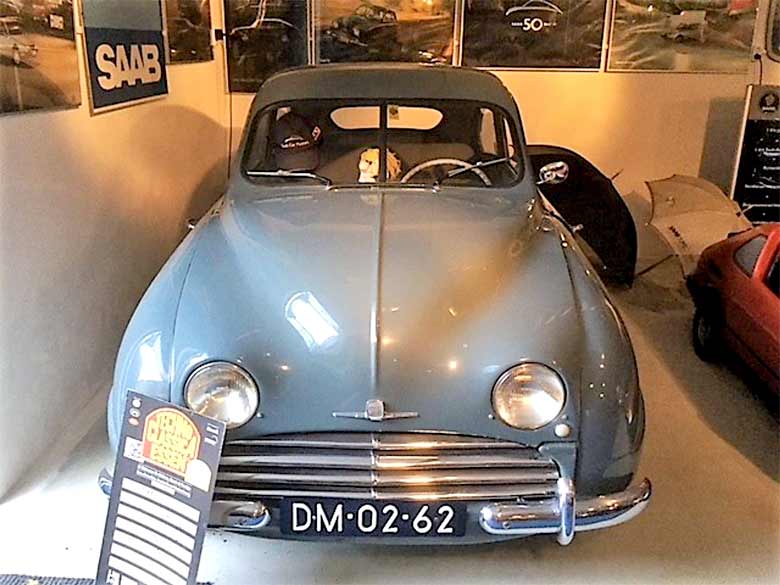 Not only Saab cars are included in this cozy museum but also unique photo material, leaflets, workshop manuals, pins, posters, instruction booklets, and all kinds of material ever published by Saab. to be found here. The oldest exhibit in this stunning collection of cars is Saab from 1952 – type Saab 92.
All cars are original like from the factory. And now it's time to sell the whole collection, owners prefer to sell the whole collection in one sale, and otherwise everything separately. When there is interest you can contact them:
Anton Kempink 0031651158167


Anton en Wilma Kempink

Bredevoortsestraatweg 65,

7121 BC Aalten

The Netherlands
Here you can see an impression of this Saabmuseum and the sellabouts: https://www.myalbum.com/album/tQ5qPNTysnhw
The collection includes the cars below:
SAAB 92 from 1954 – 750 cc GREY
· Original car – First painting
· Not restored
· 2 cylinders – 2-stroke engine
· Torsion suspension
· Split window
· Doors open forward
SAAB MONTE CARLO 850 2-STROKE FROM 1967 55 HP – LIGHT BLUE
· One of the last 43
· 3 carburators
· Oilinjection
· For the year 1967 the best seats
· In armrest is place for bottles
· Under backseat is place for rallyequipment
· Special rallydashboard with rev counter
· Wooden steringwheel
· Additional decorative frames.
· Car is completely galvanized and restored
· In the year 1967 they produced 321 pc and only 43pc of 2-stroke
SAAB 96 SPECIAL 2 –STROKE FROM 1965 842 CC 55 HP WITH SPORT ENGINE – RED
· Original Dutch car.(only a few cars from this model in Holland)
· Production only approx 1000 pc in 1965
· Sport engine
· 3 carburators
· Oilinjection
· Discbreaks on front and for-hole rims
· Standard dashboard only with oil indicator light
· Sliding roof Hollandia
SAAB 99 from 1972-BEIGE
· New model Saab from 1969
· 2 doors
· 4 cylinders
· 4-stroke
· 1850 cc (Triumph engine)
· Stainless steel bumpers
· Bars in the door and extra reinforced A-column
· Ignition lock betweem seat – the gear is then also locked.
· Only the bodywork is repainted. Interior is original.
SAAB 96 DE LUXE FROM 1961 842CC 48 HP-RED
· Folding roof. Original car. Not restored.
· 3 cylinders 2-stroke engine
· 1 carburator
· First painting
· White buttens instruments and white steering wheel
SAAB SONETT III from 1973-WHITE
· Restored
· 1700 CC V4 Motor
· A lot of parts from the engineblock are chromed.
· Polyester construction
· Like new
SAAB SONETT II 2-STROKE 842 CC 60HP from 1967-RED
· Very rare
· 2-stroke engine
· produced only 243 pc with 2-stroke engine
· 3cylinders with oilinjection
· Chasssnumber: 0000048
· Polyester construction
· Kilometers 62.750 on odometer
SAAB 96 – LIMITED EDITION – FROM 1979 –BLUE METALIC
· One oft he latest 96 models. Specialy produced for the Dutch market.
· Number 104 –production only 150 pc
· With 99, 900 seats
· Sliding roof
· Soccerball rims
· Simons exhaust system
– Reconsructed
· Spoiler on the front- and on the backside
· Sport steering wheel
SAAB 900 CONVERTIBLE TURBO FROM 1986 – 180 hp 2000cc – GREY METALIC
· one of the first convertibles
· 4 cylinders, 16 valves
· cylinderhed hydraulic
· production convertible started 1985 till 1992
SAAB 95 FROM 1973 WITH THIRD BACKSEAT-YELLOW
· Completaly restored
· Ronal rims
· Simons exhaust system
· Better then new
SAAB SPORT 1962- 70 hp – RED
· 3 cylinders 2-stroke engine
· Production only 250 pc in a year
· oilinjection
· In the years 1962-1963 Eric Carlsson was the winner from the rally from Monte Carlo with this model.
· Discbreaks and for-hole rims
· Very special car in good condition. Restored in Sweden by an old-rallydriver.
· Ronal rims
· Heating under backseat – original from Saab
· 95% original
SAAB 9000 1987 – GREY metalic
· Like new
· One of the First. Only 119.000 km
· Not restored
· 2 liter injection motor
· Only driving in the summertime in Switserland
SAAB CONVERTIBLE 9-3 AERO AUTOMATIC FROM 2004 – BLACK
· 210 HP
· One of the first last models from Saab 9-3
· original