My name is Harrison Santangelo, I am a 27-year-old from Pottstown, Pennsylvania. I was not born into a family full of car enthusiasts or race fans and honestly, if you asked me where my love for cars came from, I would not have a great answer for you. Over the past ten years, I have owned seven cars, five of them are now totaled and rotting in a junkyard somewhere, the other two are Saabs and are very much alive and well. Are you starting to see a pattern here?
Maybe it really is the driving experience of an underpowered 4-cylinder that has me hooked, but I seriously doubt it. So, what is it that draws us to this weird little car manufacturer in Trollhättan? Why do we feel the need as owners to make our own lives more difficult when sourcing parts, reliable service, or explaining to NSRP (Non-Saab Regular People) what we are driving and why?
The best answer I could put together was that the Saab community is small but mighty. From my experience, we are some of the most loyal, engaged, and honest groups I have been a part of. That does not mean that Saab is for everyone, there is an unexplained, but quickly apparent, hierarchy in the various Saab forums and Facebook groups that simultaneously acts as an organic hazing process that sorts out the normal car enthusiast from a Saab enthusiast.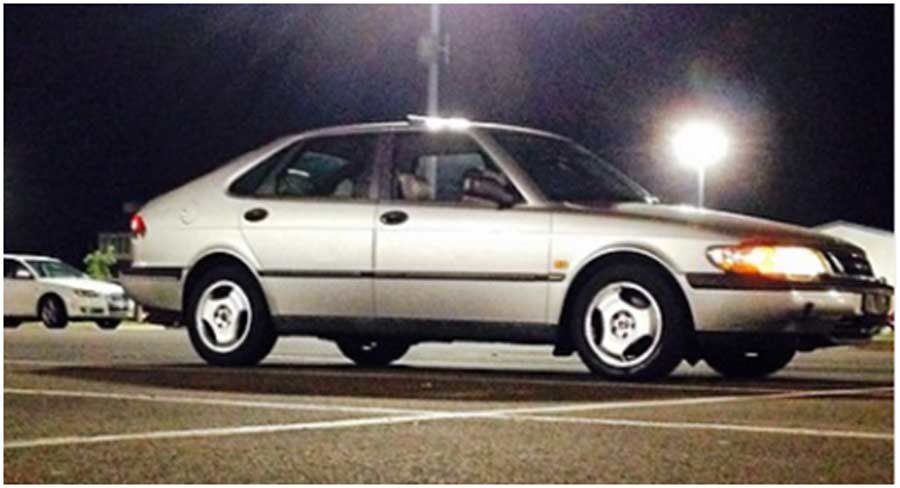 My Saabs were not in showroom shape when I bought them by any means, but one thing is for sure, I made decisions and took shortcuts when building them that ultimately made them worse overall, even if I did not want to admit it at the time. I felt justified (and frustrated) in these decisions because of the glaring lack of aftermarket support for my build goals. I had a feeling I was not the only one struggling with this reality. Having more experience and much higher standards both aesthetically and functionally, I wanted to see if I could develop a line of products that addressed this issue.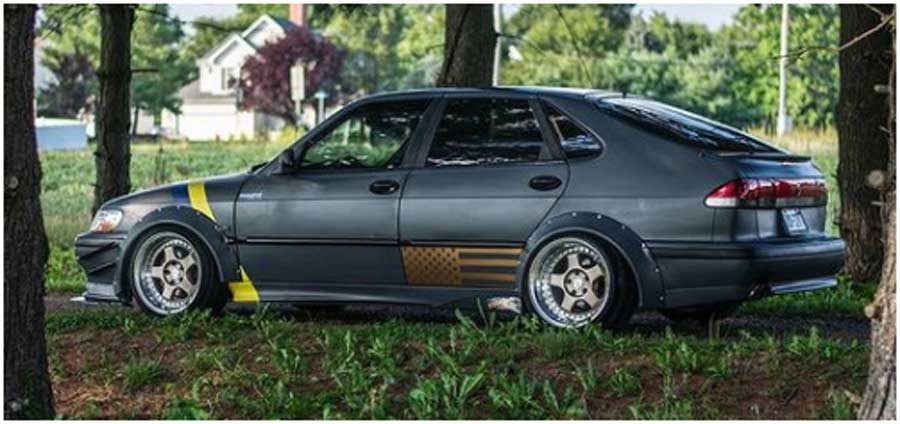 I worked with Supremekarak, AKA Asad Waheed, a nineteen-year-old self-taught graphic designer from Dubai, that has found a passion for modifying car designs using a 3D modeling software program called Blender. The three-month process of designing our first kit consisted of thousands of text messages, hundreds of pictures, and two fifteen-minute video chats to sort out every square inch of surface. "Harrison, why didn't you just learn how to use Blender yourself?"
Well, readers… as we got further into this "Police Sketch" like the process I looked to SK for opinions and suggestions on various aspects of the kit. When you look at the kit you can see design cues that it shares the 80's and 90's DTM cars, European Hillclimb Monsters, and even the more recent kits from Pandem and Liberty Walk.

The main reason behind this project and the most obvious design inspiration is Per Eklund's insane 2000 Saab 9-3 that he dominated Pike's Peak with. In 2000, this 800HP beast set a record in the open class the would be beaten for 12 years! He then returned in 2002 to compete in the prestigious unlimited class, with more power, and downforce and went even quicker.
Read more about it (here – https://www.saabplanet.com/per-eklund-pikes-peak-saab-viggen/)

It is Driving Positivity's goal to bring the weird little manufacturer from Trollhättan back to Pike's Peak in 2022 to commemorate this pure awesomeness. We are working diligently to both make our kits available and affordable to other Saab owners and partner brands who support us as Saab fans. Hopefully, we will see you guys at 14,115ft above sea level!
For media opportunities or to support our race program, please email us at [email protected] or message us on social media: Instagram or Facebook!
Current Sponsors: