According to one of those who saw this car ("live"), and we've seen it in the pictures, this is for sure the Cleanest Saab 900 We have ever seen (almoste factory state).  as the seller Martyn Russell says, for him this is a hugely painful sale, but as the incredibly low annual mileage will testify, it is now time for someone else to enjoy this fabulous car and give it the use it deserves.
This was a genuine barn find in 2012 where it had been dry stored for 8 years following a head gasket failure.  Martyn saved the car and had it recomissioned by the excellent TR Autos (Somerset) and gifted it to his wife as a wedding present. The car has since had absolutely no expense spared and has been kept garaged ever since and only used in the dry weather.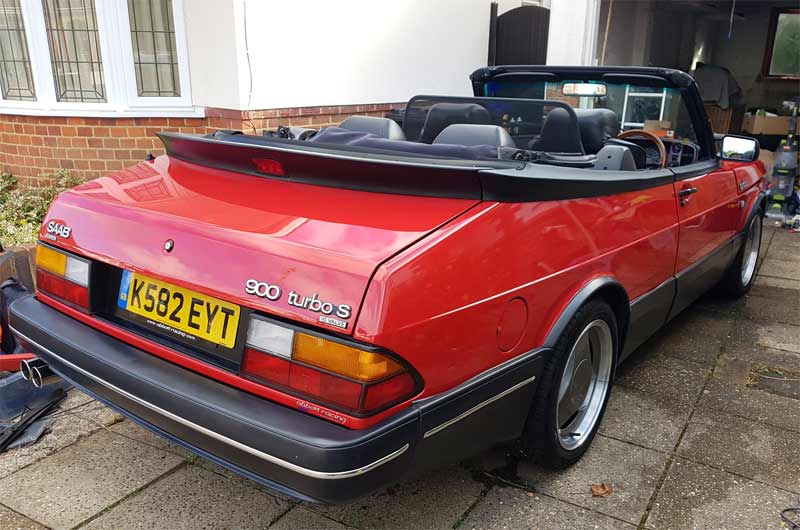 Since his ownership, the car has been featured in 3 magazines (with a six page feature in the Spring 2015 edition of Classics Monthly) in addition to being a 2016 Best in Class show-winner from a field of over 700 classic cars.
In 2015 (just 4,000 miles ago) TR Autos carried out a manual gearbox conversion (originally a 3 speed auto) replacing a huge number of parts at the same time and utterly transforming the car at a total cost of nearly £5,000.
Some of the highlights of this conversion include:
* low mileage reconditioned engine fitted with new timing chain
* 5 speed manual gearbox fitted along with slave and master cylinder and  associated pipework
* Lightened flywheel
* 228mm Borg & Beck Saab 9000 Turbo clutch
* New radiator
* Bespoke intercooler fan
* Front Brembo discs, pads and pipes replaced (9000 Aero calipers)
* APC box modified to Carlsson 'red spec' (185bhp)
* New headlights fitted
* All pumps, belts, seals and gaskets, boots, clutch pipes, brake pipes, bearings (etc etc) replaced plus a multitude of clips, bulbs, switches etc: their instruction was to attend to any and every possible issue
* The engine bay was also stripped, repainted and sealed before re-fitting.
Since then, the car has been serviced and MOT'd by Abbott Racing who have also:
* Replaced the entire fabric roof last year (£1300) which remains in excellent condition and has been regularly Fabisyl'd. The electric motor / hydraulics  operate swiftly and quietly, just as they should.
* Stripped, cleaned and undersealed the entire underside, attending to any rust  (£500) at the same time as the above.
The current MOT from Abbott Racing expires 19th January 2019 (currently 225,313 miles), but with zero advisories.
In addition to this, he has:
* Had the car stripped and resprayed in original SAAB red (2105): the bodywork  remains in generally excellent condition, with a just minor imperfection on the passenger door swage line and also around the arial mast. There is zero visible rust and the paintwork remains scratch and dint-free, polishing up beautifully
* Complete LongLife stainless steel exhaust (to Carlsson spec tailpipes), including a one-off 3″ down pipe (with a separated wastegate outlet which then blends back into the pipe further down) at a cost of nearly £1000 in 2016
* Odyssey slimline battery to accommodate the down pipe
* Carlsson 16″ alloys diamond cut and painted (2016) though they are just beginning to blemish in a few places
* Uniroyal Rainsport 3 tyres (matching set and still in excellent condition)
* Re-trimmed door cards and rear panels in grey alcantara
* White LED interior bulbs
* TOAD CAT 1 insurance approved alarm / immobiliser with microwave sensor  (2016), with fully operational central locking via the remote control.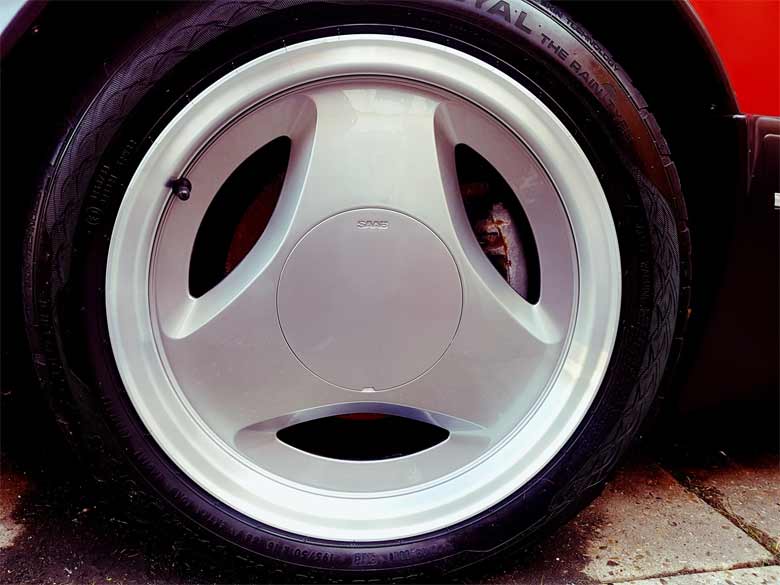 Modifications have been kept subtle and in-keeping with the car. Please note that the standard items are also included in the sale to very quickly take the car back to a 100% stock 'fresh from the factory' look should you so desire:
* SAAB 9000 Aero front seats: fully electric and heated (the original C900 seats are also electric and heated)
* SAAB 9000 Aero front calipers
* Sports springs with Bilstein dampers
* Italvolanti wooden steering wheel
* x3 Aux gauges
* Front leather arm rest
* 3″ downpipe
* Full Samco silicone hose kit (in black)
* Abbott Racing atmospheric dump valve
This car drives impeccably: each time it has been to Abbott Racing they pour over it and test drive it to assess for any potential issues, for which they found none on its most recent visit. The handling is precise with lovely feedback through the steering wheel, it rides very nicely and has a surprisingly swift turn of speed when it comes on boost, accompanied by a lovely (but muted) wastegate chatter. The gearbox selects cleanly into each gear without effort and the gently uprated clutch is no heavier than stock.
The only significant issue with the car is some rust around the windscreen on the drivers side (only visible with the door open). To properly attend to this (and thus do the car justice to maintain its impeccable upkeep) the windscreen should be removed. As it is garaged and has such little use, this hasn't been a priority for seller. Other imperfections include a cracked instrument cluster, but a replacement item is included in the sale. The bumpers have also flaked in just a couple of small places, easily enough remedied by a decent body shop. The wood veneer on the dash also has a small crack and the dash top has the usual split from sunlight damage: simple enough Sunday afternoon DIY jobs.
The car comes with a wealth of paperwork, including some from the former keeper (dating back 20 years), old tax disks and a complete stamped SAAB Service history book, all the way up to my ownership where it has only ever been to SAAB specialists for work. A genuine SAAB hard tourneau cover and removable mesh windshield are also included.
Should you be interested, the Seller also have the number plate <J900 CDE> on retention that can be included depending upon the final sale price.
Seller Martyn really do hope that the car goes to someone who will treasure it just as much as they have: a very young family means that most of their travels are undertaken in either hus wife's SAAB 9-5 Aero or his 9000 Aero and with just 2000 miles covered in the past four years, she must very sadly be moved on.
Finally: please, no tyre-kickers or test-pilots: the sale of this beautiful car is painful enough as it is, so only genuine interest. As the car is in secure storage, viewing is only possible at certain times.
Located nr Brighton (UK)
Price: £12,995 o.n.o