Some six years ago, this same "hot rod" Saab 95 was in the focus of media interest when it was offered for sale by an American dealer. At the time, this car was interesting because it was a slightly rarer classic Saab wagon, but with an additional change in the form of a subsequently installed "monster" in the form of a V8 engine, and because it was offered at an incredible price of $60,000. Which is not really news these days, as several classic Saab cars have recently been sold at auctions for over $ 50,000.
Now, this same car is again in the focus of the world's automotive media for a similar reason. This 1971 Saab 95 station wagon powered by a GM 502ci V8 paired with a two-speed automatic transmission is now a former owner reportedly bought the car 16 years ago and is now back on sale.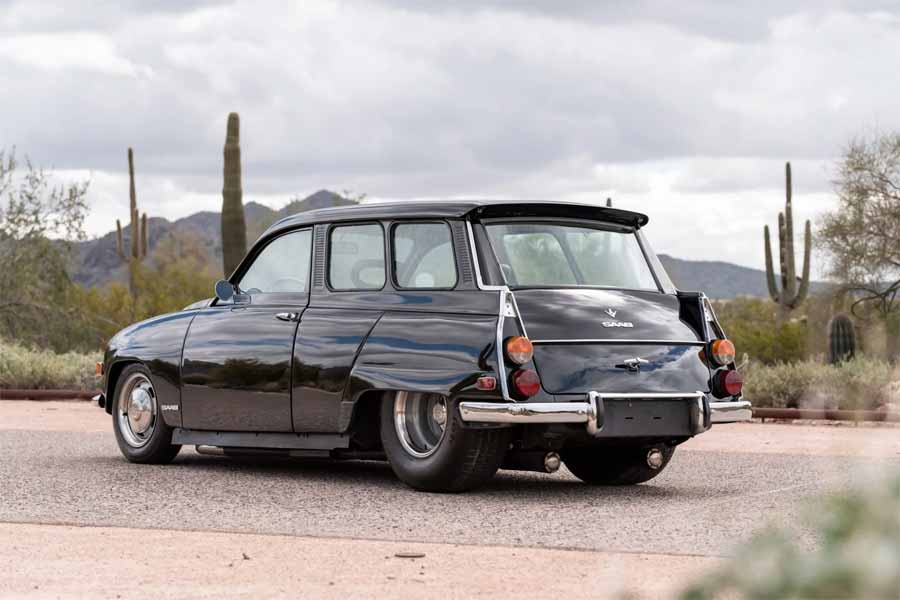 The auction fight was fierce, and the first bids started at $27,000, so the auction ended two days ago with a selling price of $40,000. For that kind of money, the new owner gets a small, Swedish station wagon with giant 8.2-liter V8 coupled to an automatic transmission with just two steps. On the other hand, the engine delivers a whopping 502 horsepower. That is 429 horsepower more than Saab equipped the top model of the 95 with from the factory. Compared to Saab's factory condition, it is 4 more cylinders and as much as 6700 cubic meters more.
The body and chassis of the old Saab are not at all designed to handle that much power. Therefore, it has been necessary to reinforce both the chassis and body. And that powerfully. Certainly, from the outside, there is not much that reveals that this Saab has become a "monster", except for drag racing wheels and tires on the rear axle. But, all in all, it's not that good old Saab, but a version of the "car Frankenstein" that certainly doesn't like real and true lovers of classic Saab cars.
However, this is another proof that classic, well-preserved Saab cars are becoming more and more appreciated and more expensive on the classic car market.