It's time for John to find his new challenge, so he sells his super-fast Saab 9-5 Aero. His Saab SAAB is know as Highest Horsepower Saab 9-5 running in the United States – 523whp and 600bhp!!! Now, with UPDATED PRICE – $10,000!
It has 87,395 miles as of right now. John is the 2nd Owner and has owned this 9-5 for the past 6 years. When he acquired the 9-5 it only had 20,000~ total miles on the car. It currently runs and drives but he just no longer have time for it so it has been sitting around lately.
Maintenance he has been meticulous with and change the oil with Brad Penn 10w40 every 3k miles and fresh NGK BCR8ES spark plugs every 6k. This Saab 9-5 is fully capable of being a daily driver or a weekend roll racer. It made 523whp and 533wtq on a Dynojet Dyno making it the highest HP Saab 9-5 in the Country that's currently running.
The car currently runs E85 full time which John highly recommend the new owner to use, however it is setup for flex fuel use and can take 93 octane pump gasoline as well. It has a little over $10,000 in performance modifications alone which are listed below:
Custom Made Tubular Exhaust Manifold w/ EWG port
Tial 38mm External Wastegate
GTX3071r .64 A/R
Wossner Pistons
T5 Cams
ARP Head Studs
Spec Stage 3+ Clutch
Maptun Built F35 Transmission w/ LSD
Krona Performance 3" Catless Turbo Back Exhaust
ETS Intercooler
Do88 Intercooler Hoses
Do88 Charge Pipe
ID1050x Injectors w/ 3.5 Bar FPR
Walbro 450lph Fuel Pump
Forge BPV
Custom Cobra Inlet
NGK AFX Wideband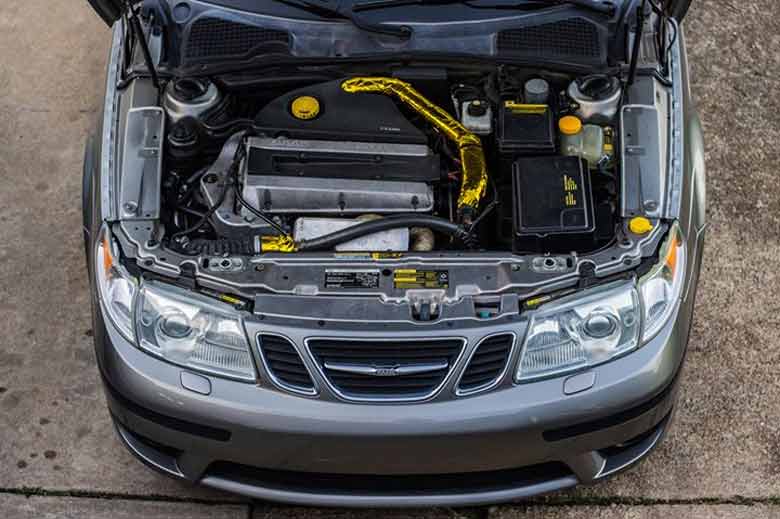 List of things that need to be addressed:
1. 2nd gear grinds sometimes when shifting. He will note that the shift linkage may need to be adjusted as it is VERY stiff sometimes. It does not grind every time and does not affect drive ability when cruising around other than it grinds sometimes. The transmission only has around 600-700 miles on it in total.
2. The Alarm Indicator light cover on the dash is broken. (Part #4744280 – $26.03)
3. The driver front floor mat is torn
4. Power Steering leak from a high pressure hose. I was quoted $250~ for a repair of the hose and labor to reinstall. OR you can purchase a brand new Power Steering Hose kit (Part #32015402 – $160.55)
5. AC may need to be recharged since it's been sitting mostly but it is functional
Asking Price – $12,000 (Updated – now $10,000)
If you have any additional questions ask away John.M.Chargois