Last week MapTun Performance posted a teaser of their tuning project in the dyno and it is now time to tell you more.
This car has been presented before as "Project Saab 9-3 Lillebror" and it still is the same concept with both turbo and supercharged engine.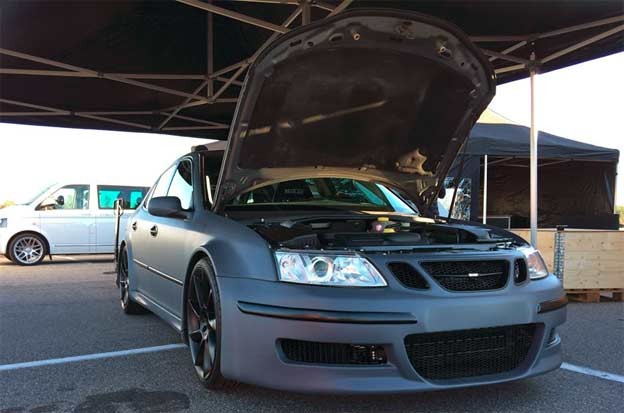 The last time they worked with the car they could not get the supercharger to work as they wanted, which then forced them to some upgrades, now the car has a new type of supercharger and this time it worked really well.
Lillebror (Little brother) produced 460HP and 530NM in dyno, the fuel lines was the only thing holding it back, but they are not going to stop here. After some modifications and replacements MapTun team are aiming at 500HP.
Lillebror was born as a 2003 Saab 9-3 Linear and when our technician P-A together with his team put their hands on it this is the result, not only is it both supercharged and turbocharged it's also four wheel drive which makes it even more fun.
Engine:
B207R with Darton wet cylinder liners. Wössner forged pistons. Verdi Rods. Forged crankshaft. Ported cylinder head.
Ferrera valve springs and retainers. Hydraulic tappets redesigned to adjustable mechanical. Reground camshafts.
RXP 340 Fuel pump. Deka 875cc Fuel injectors. Exhaust manifold in stainless steel with wastegate socket.
Tial 38mm wastegate. Garrett GT30 Series Turbocharger. Eaton M62 supercharger with magnetic clutch.
MapTun Downpipe. MapTun TwinPipe exhaust with cutout valve. MapTun cooling hoses. MapTun Intercooler hoses.
MapTun Intercooler. Evans Power coolant fluid. 90mm custom made air inlet pipe. Custom made air filter box with intergraded pressure control which controls air flow between Turbocharger and Supercharger. Recalibrated air mass meter.
Drivetrain:
Stock XWD Gearbox. Saab XWD system. Re-Shim pressure plate. Special made Sintered clutch. MapTun Shortshift
Chassis:
MapTun Coilover kit. MapTun Sport brake kit front and rear
Body:
Saab motorsport wide-body kit. Plasti Diped in Gunmetal Grey paint. Back painted roof. MapTun EVO rear spoiler. Carbon fibre skid plate.
MapTun black grille.
Interior:
Flocked dashboard. Analog gauges for boost pressure, oil pressure and oil temperature. PLX wideband lambda with exhaust temperature measurement.
Sparco sport seats. MapTun Edition Steering wheel.
Wheels:
9×20 ET 35 Black-T Special.