A lot of work and money has been put into this car – money, work and of course huge enthusiasm. Owner of this super-tuned Saab 9-3 Aero 2.0T -02 is a young Swede Joel Artursson.
The car has been in its possession for 5 years and this is his first car (He is only 23 years old) and it has gone from completely bone stock to the present setup. According to his plan, the power output of this build will be around 600+hp, and main goal is to achieve this power with lowest boost possible and with a revlimiter at 7500rpm.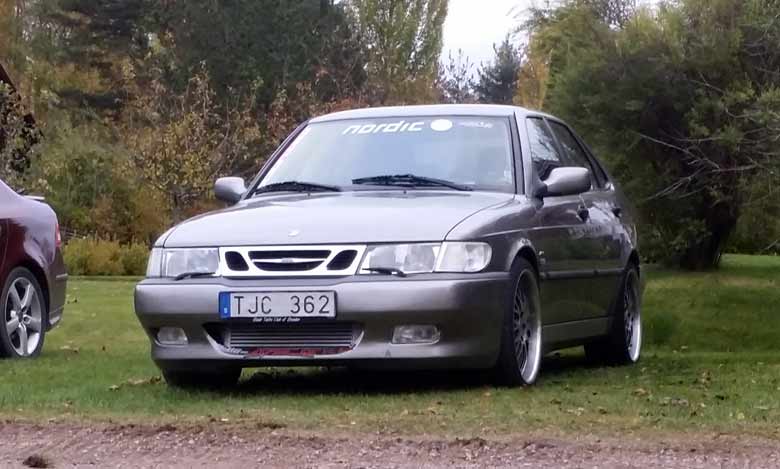 Future plans of this car is to start competing in the Swedish Time Attackseries. Full roll cage with weight reduction. Full aerodynamic kit with big GT-wing, canard wings, diffuser, completely flat bottom of the car and carbonfiber splitter. But still maintain it as a "road legal" car and use quick release on everything.
Below, which probably many enthusiasts interested, we present a more extensive list of modifications that Joel is performed on the car, and what should be further.
Bottom end:
T7 engine block with weight balanced and machined T5 piston and rods.
Balanceshaft chain deleted.
Modified oil pump regulator for slightly higher oil pressure.
Cylinder head:
The legendary Nordic 2.5GT valve cover with much history from both Nordic performance with Robert Uhr's Nordic 2.5GT and Andy's (Andreas Gidlund) Saab 9-5R 815hp and his 9000 Twin turbo. The cylinder head is custom made by Roine at Maptun.
Very ported.
33mm exhaust valves(4mm bigger than stock).
33mm T5 intake valves.
Special race valve guides with longer sleeves.
Much harder springs.
Custom camshafts, I got no specification on them yet.
GenuineSaab adjustable cam sprockets.
Port matched intake.
Gearbox/clutch:
4-pad sinter lamell
Viggen pressureplate.
Redline Heavy ShockProof oil.
Quaife limited-slip differential.
Upgraded crush sleeve.
Intake/turbo:
4" AEM Dry flow filter.
DO88 big intercooler.
DO88 charge piping.
MAF moved to the charge pipe.
No blow-off valve.
Precision Turbo CEA 5558 dual cheramic ball bearing. Big A/R 0.70 compressor housing with anti-surge, 4" inlet and 2.5" outlet. A/R 0.64 turbine housing with V-band flanges on the inlet and outlet.
Fuel system:
Bosch Motorsport EV14 1300cc injectors.
Ported fuelrail with fuel pressure regulator from BTR a Saab 9000.
Bosch 044 fuel pump modified for in-tank and machined aluminium plate with AN-fittings.
Exhaust:
Re-welded Sweden Exhaust custom exhaust manifold with V-band turbo flange and port matched towards the cylinder head.
Custom 4″ downpipe.
3″ cat-back with one muffler.
100 cell catalytic converter with V-band flanges for de-cat.
50mm external HKS wastegate.
2″ scream pipe.
Engine mounts:
GenuineSaab Polyurethan sports mounts.
ECU:
Trionic 7.
Launch control.
Other:
Deleted ACC.
16″ aftermarket cooling fan.
65°C race thermostat.
Driven on Redline 5w40 race oil.
Big oil cooler with AN8-fittings.
Re-welded oil filter housing for AN8-fittings.
Custom open crankcase ventilation with AN10 steel-braided hoses.
Chassis:
Koni adjustable dampers.
40mm red lowering springs by maxtrac, very hard.
Genuine Saab 25mm rear anti-roll bar.
26mm anti-roll bar in the front.
Full powerflex blackseries in both the front and the rear.
Brakes:
Steel-braided brake lines.
EBC 308mm brake discs.
EBC Yellowstuff brake pads.
Super blue racing DOT4.
Interior:
Stock turbo logo seats and steering wheel.
3 bar boost pressure gauge.
Innovate MTX-L wideband O2-sensor.
Indeed, thanks to Joel that he shared with us his enthusiasm and pride.