After the latest news from Trollhattan, which referred to the PONS project, The First Generation of Autonomous Vehicles with a Connected User Interface at the beginning of July, and the news from May, when the local media noticed the arrival of 10 new test  NEVS 9-3 EV cars, here is the new news – we have spy photos of the first test drive vehicles on a brand new platform.
After a considerable time without news of NEVS and Saab, interesting information arrives from Sweden. In broad daylight a test mule was spotted, as reported by the Portuguese car portal PlanetCarsZ. As you can see in the spy photos, new vehicle is in the middle of a development process that, according to the author of these blatant photos, is fully electric. A fact that we can take for granted, since in the rear image there is no exhaust system.
This only indicates that this may be one of those NEVS 9-3 EV cars that arrived in Sweden in May, but that it has been completely redesigned to a completely new platform. Now, what makes this vehicle so picturesque driving on Swedish roads? This is the key question. We recognize the construction of the classic Saab 9-3 sedan, but this is something completely different. The vehicle was recorded near Trollhättan, near the old Saab facilities. But in addition to camouflage, which has little or nothing to hide because it is a test mule, the really important thing is the dimensions, the big wheels and the wheelbase.
We are facing a testing mule that uses a new platform. In addition, the wheel arches and the size of the wheels are so big that we can face the embryonic stage of a future crossover (mid-SUV – maybe L113) of 100% electric mechanics. This allows us to take a look back, more specifically in 2015. That's right, about half a decade ago NEVS announced the launch of 4 completely new electric cars. A plan that remained in the drawer, since they should have been launched at the latest in 2018.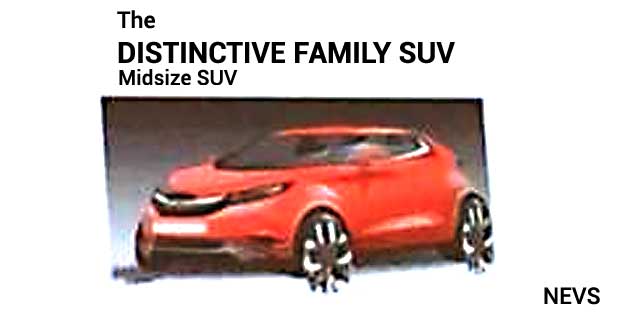 With Evergrande completely taking over NEVS, and investing further, things seem to be accelerating. From that plam, of the four models, three were crossovers. So, some of them can fit perfectly with this testing mule.
Although it is true that for the time being the information is very scarce and that these two photographs do not allow to analyze much more the test mule, what is really interesting is that this sighting happened. A fact that confirms that NEVS is working on planned projects and that Saab Heritage is the key.