Robert Solstad converted cars into "6-wheel transporters" in a small town called Hogsby in Sweden for over 10 years. Basically it converts different types of ordinary cars into 6-wheeled Saab flatbed Car Hauler.
Somewhat naturally, because of the location of his workshop, the most rebuilt of these cars is Saab, and all Saabs modified to car transporters are called Solstad Saabs. For all this time as far as Robert is involved in this business, there have been a really huge number of Saab transporters.
Saab 900 Solstad
Many times when he bought new cars from the Saab factory so they always had some they baked into the package that he did not want, but the prices used to be so right that you took them anyway. The white 900 was one. It was only a 2.3 I and without Turbo you would rather not have a car transport. So it remained standing for a few months.
One Friday night when everyone in the workshop went home, his good friend Christian Ivarsson (he is known for his unusual saab projects) from Bräkne Hoby came up with a new idea – let's make a six wheeler with a roof! What else to do a weekend?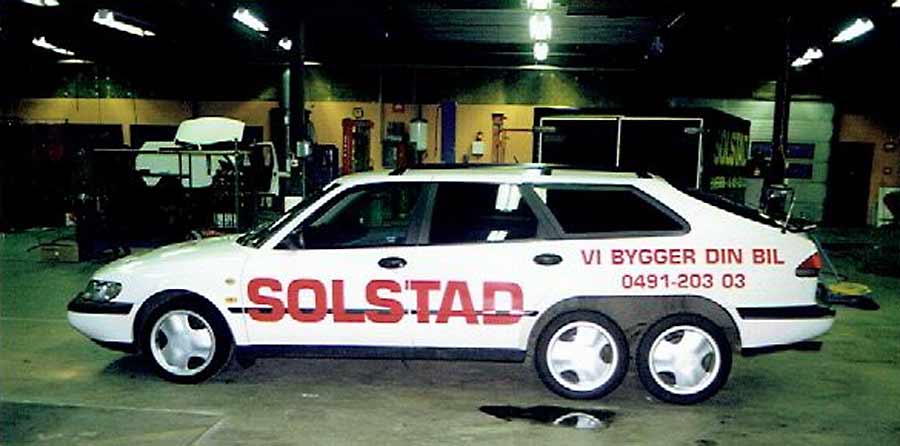 Several remaining rear parts were already found from the car transport building, they cut the new car behind the rear axle and put one that was cut in front of the axle, it was some measurement before they got it together.
On Monday morning it was welded together but not the roof. Roger Herrlin, who worked in Robert's workshop, then had to take care of the roof of this hybrid six-wheeler Saab 900. The car was sold directly the first time when they showed it at a trade show (Elmia custom motor show). Insteresting, Robert then changed it again after a few years at another sale, drove in it himself for a while, ans accordin to Robert – it was really fun.
Then Robert sold it to Kent Plateryd (Custom by Kent). The last thing he heard about it was that it frontal crashed and ended up on the scrap.