"Shitbox Rally 2016" is not a race, rather a challenge to achieve the unthinkable: to drive cars worth $1,000 across Australia via some of its most arduous roads, all in the name of charity.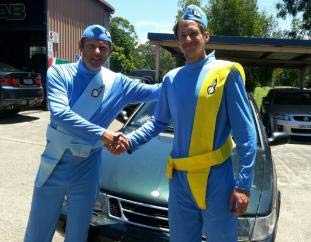 Among a large number of teams participating in this rally, there was one SAAB team – "THUNDERBIRDS ARE GO" with drivers Dominic Parry -Waller and Simon Knight from Eltham, NSW.
They drive the aging but reliable green Saab 900 – which was converted into a favorite toy, spaceship Thunderbird 2!
This Saab just went 4000 km for fundraising for cancer In Australia. Rally was held from 13 to 17 May. This rally is for those that want to have an adventure, that crave something different, something memorable, but most importantly, it's for those who want to raise much needed money for charity.
Our amazing Shitboxer's raised $1,530,064 for The Cancer Council which is just $4k off the highest ever total when they had 25 more teams.