Saab never managed to lift in the way many fans hoped. But one thing must be clear to everyone: in Trollhättan, thanks to Saab's brilliant engineers and constructors, there was never a shortage of ideas. Below, we will mention only some of the most interesting projects that now "sleep" once and for all. How about a super-9000 with four-wheel drive, an attractive SUV and a hard-top convertible, cars that were a few years ahead of the competition?
Project 106
The picture below shows an internally made overview of project 106 and its bold body variants. Also note the advanced front trailer and the two different rear axles for front and four-wheel drive.
An enormous inventiveness
From the end of the 1980s until the beginning of the 2000s, there were more than 20 different car projects at Saab's headquarters. Even 13 projects of them became rolling prototypes but only 900 / 9-3, 9-5 and new 9-3 became a reality. Judging from the projects, we can also see that Saab on several occasions had serious plans to launch different performance variants – for example 9000 Super Sport and 900 Aero with all-wheel drive systems.
And as early as 1995, there were plans for a hard-top convertible, several years before they became popular with other brands. The most common reason why Saab scrapped a number of interesting projects was, of course, that it became too expensive and the cost would not be borne by the potential buyers.
We were able to read on Saab's internet forums and fan sites a large number of internal documents that map and describe the unknown cars and in some cases we have also seen business calculations and decision material.
Project 106 was on the trail of a much sharper Saab 9-5 model
As early as 1988, three years after the debut of the 9000 model, Saab began to develop the successor, which was given the internal designation X68. Saab's "chassis guru" Magnus Roland was the project manager, which explains why the project revolved around updating the 9000 model's simple wheel suspensions.
The rear axle was designed with modern multi-link geometryand prepared for the differential and drive shafts that the four-wheel drive top models needed. The front suspension was also advanced; Saab called the model "SLA" which is to be interpreted as Short Long Arm, ie lower and upper link arms of different lengths instead of the usual and cheap struts with simple lower link arms. All to be able to create a car with chassis sharpness, at the same time as you could step up several steps on the comfort scale, which was the 9000 chassis' "Achilles heel". The basic structure was a modified and reinforced 9000 structure.
The project came to a halt when General Motors bought into Saab in the autumn of 1989, when they had to throw themselves headlong into a luxury car project to build a Lexus "killer". That project soon stalled when it was realized that neither the will nor the competence to build a rear-wheel-drive luxury car existed in the Saab company. Outsourcing the development and manufacture of V8 engines at Porsche or Yamaha that GM were in contact with would also be unexpectedly expensive – the cost would be upwards of $11,000 per engine. Project leader was Olle Granlund, and according to him – "The project came to a standstill when General Motors bought into Saab in the autumn of 1989".
Instead, the team had to embark on building a replacement for the aging 900 and in parallel development on a performance version of the 9000, with the additional name "Super Sport". Here they took out the rear axle from the X68 and let Lotus build a four-wheel drive worsting with 275 horses and 400 Newton meters of torque. Lotus was originally supposed to build two prototypes, but when looking at the business plan, the management doubted that it would be possible to take out the extra $ 8-9,000 that the car would cost only in extra production costs.
However, the next project, 106, was the most critical of them all in the 90's and could have radically improved the competitiveness of future model programs. In 1992, work on the 900 replacement was well under way and the 9000 model began to show signs of aging, despite a successful facelift with the addition of the CS model.
With David West (who came from Opel) at the helm (Magnus Roland had been recruited to Detroit), work began on a successor on a completely new, unique platform that was adapted for front and four-wheel drive, but which borrowed the front structure and rear axle from the X68. Of course, the platform was adapted to both fours and sixes, and as the working documents show, both sedan and hatchback and station wagon versions of the body were designed. Tony Catignani, who then came to be responsible for the shape at both 9-5 and most recently 9-3, drew the two models pictured here, but on the sketches you can see clear features of Björn Envall's old concept car EV-1.
In the same year that the 9-5 was presented, GM decided to scrap the plans to modify the Epsilon 1 platform for four-wheel drive. This meant that the door was closed for all future cross-over and performance versions, and thus for better margins. Project 106 promised to be a technically advanced car with all modern goodies on board (they even experimented with four-wheel steering), but the whole set-up failed in the usual way: it would be too expensive to produce a unique base platform for Saab.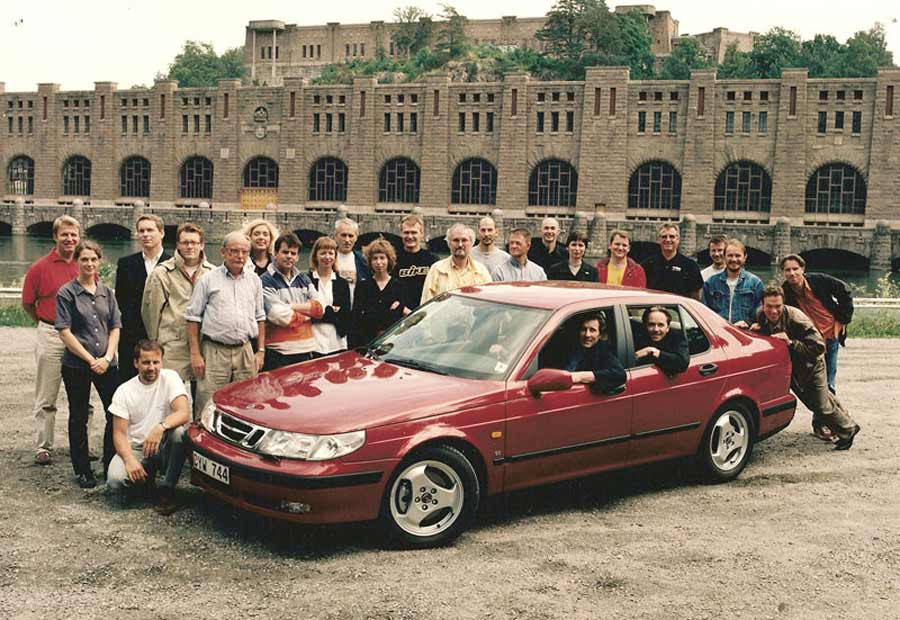 Project 640 (Saab 9-5)
Therefore, P106 was closed in 1993, and replaced by Project 640 based on GM's then Vectra platform. Saab fought to adapt the Epsilon 1 to four-wheel drive, but the same year that the 9-5 was presented, in 1997, it closed that possibility for good. The Same Reason again: it would be too expensive. GM closed the door for four-wheel drive on the 9-5 platform – and thus for all crossover and performance versions that Saab has been able to "charge" (recover) well for.
If Project 106 had been implemented, they would have had a significantly better technical platform on which to build a credible premium player for that time, with good opportunities to charge a significantly higher price. Had Saab been able to continue Project 106 at the time, it might have fully recovered, been more competitive and profitable.