Emma Kimiläinen in Saab 9-3 STCC secure third place and her second podium finish of the year in a chaotic final STCC race of the twilight event at Mantorp Park. It's been a really great success for PWR Racing team, Overall, a double podium is never an easy thing to achieve, so a good day although not a perfect one.
Emma's team-mate Daniel Haglöf was on the verge of great success, But he suffered a major setback during five lap from the end. Danile got alongside BMW driver in the final corner and the two went side-by-side into the first corner.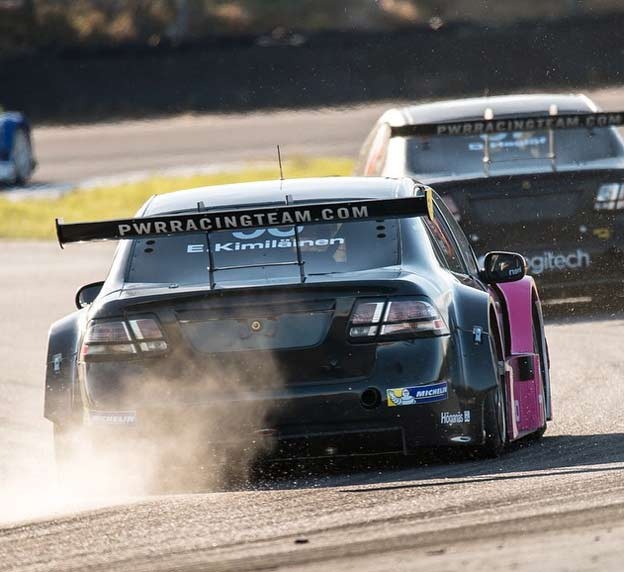 But the pair didn't manage to go through the corner successfully, but clashed and spun out from the race lead. He finished the race in seventh place, just behind the Saab driver from another Saab team – Richard Göransson from Team Tido.
Race 2 Results STCC Mantorp Park 2015
| | | | | | | | |
| --- | --- | --- | --- | --- | --- | --- | --- |
| 1 | 11 | Fredrik Ekblom | 22:10.722 | 25 | | 47.785 | 140,730 |
| 2 | 1 | Thed Björk | 22:10.945 | 25 | +0.223 | 47.480 | 141,634 |
| 3 | 93 | Emma Kimiläinen | 22:11.980 | 25 | +1.258 | 48.043 | 139,975 |
| 4 | 4 | Fredrik Larsson | 22:12.235 | 25 | +1.513 | 47.448 | 141,730 |
| 5 | 20 | Mattias Andersson | 22:13.158 | 25 | +2.436 | 47.954 | 140,234 |
| 6 | 3 | Richard Göransson | 22:16.626 | 25 | +5.904 | 47.548 | 141,432 |
| 7 | 37 | Daniel Haglöf | 22:16.920 | 25 | +6.198 | 47.849 | 140,542 |