When it comes to custom-made hearses, one name stands out in the industry – Coleman Milne. This UK-based company, known for its craftsmanship and attention to detail, has been creating unique funeral carriages for decades. In this article, we'll delve into the special Saab 9-5 Hearse by Coleman Milne, a vehicle designed to serve as a dignified funeral carriage.
Auctioned Elegance
Scheduled to be auctioned at Mercedes-Benz World on November 25th, 2023, this special Saab 9-5 Hearse is not your typical vehicle. The auction will take place at Brooklands Drive, Weybridge, United Kingdom, and is sure to draw the attention of car enthusiasts and funeral industry professionals alike.
Saab 9-5 Hearse – Vehicle Description & Features
The Saab 9-5 Hearse by Coleman Milne is a unique and dignified vehicle meticulously customized to fulfill its solemn role as a funeral carriage. Based on the Saab 9-5, a classic Swedish saloon car, this hearse model exudes elegance and purpose. Coleman Milne, renowned for their craftsmanship, takes the Saab 9-5 and transforms it into a serene and respectful atmosphere for the departed.
Notable features of this vehicle include a multi-function steering wheel, air conditioning, electric windows, central locking, remote alarm, and a CD player. The 2.0-liter engine, paired with an automatic gearbox, offers a balanced combination of performance and economy. With four seats and panel sides replacing the original glass, it provides a comfortable and quiet ride.
This unique Saab 9-5 Hearse serves as an alternative to conventional vans and offers an ideal platform for signage. This particular example comes with a good service history and an MoT test certificate valid until October 2024. Remarkably, when new, similar examples cost in excess of £100,000, making this opportunity even more attractive as it goes to auction without reserve.
Crafting Excellence: The Legacy of Coleman Milne
Coleman Milne has a rich history spanning over six decades in the funeral industry. Their commitment goes beyond building vehicles; it involves providing market solutions that enable their customers to deliver excellent service. They achieve this through a dedicated team, in-depth market knowledge, and a forward-thinking ethos.
Using cutting-edge design and manufacturing technology, Coleman Milne challenges conventions to produce innovative, advanced, and reliable ceremonial vehicles. Their commitment to design and engineering expertise is evident in their vehicles, which are engineered from the ground up, specifically as hearses and limousines. They utilize CNC machined 1:1 scale models and the latest CAD software modeling techniques to produce bodywork panels.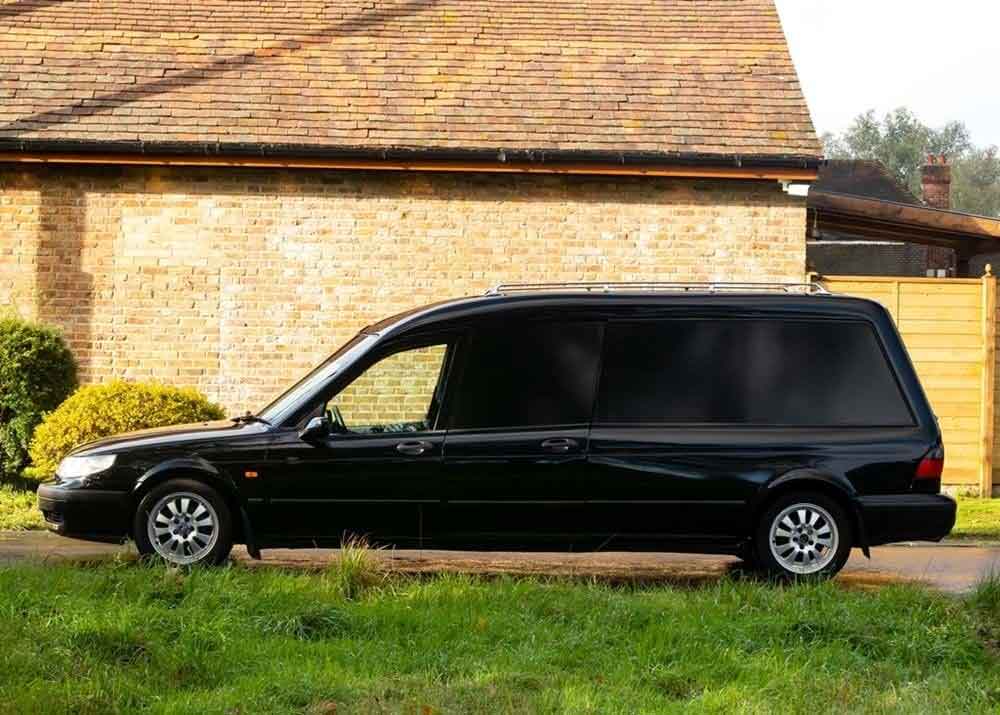 One of the distinguishing features of Coleman Milne is their commitment to quality. They offer a three-year/60,000 mile warranty, covering not only the base vehicle but the conversion itself. Additionally, their Aftercare Team provides exceptional service through a dedicated app, ensuring that repairs, MOTs, maintenance, and parts sourcing are convenient for their customers.
Saab 9-5 Transformed: A Unique Journey into Hearse Customization
In recent times, Saab 9-5 models have taken on a unique and unconventional role on the British market as they have been transformed into hearses. This remarkable transformation has garnered attention and intrigue among both car enthusiasts and those in the funeral industry. Let's delve into the fascinating world of Saab 9-5 hearses that were once available for sale on the British market.
Special Saab 9-5 Hearse on eBay
One notable example that made waves in the automotive and funeral industries was a special Saab 9-5 hearse listed on eBay. This custom creation by Coleman Milne, the renowned coachbuilder, showcased the transformation of a classic Saab 9-5 into a dignified funeral carriage. The vehicle's sleek lines and luxurious interior provided a serene and respectful atmosphere for the departed. Its presence on eBay drew attention to the uniqueness of Saab 9-5 hearses and their ability to combine elegance and purpose.
The Huge Saab 9-5 Hearse
Another Saab 9-5 hearse that captured the imagination was the "Huge Saab 9-5 Hearse." This larger-than-life creation demonstrated the versatility of the Saab 9-5 platform when it came to customizations. The spacious interior and meticulously designed hearse conversion made it an ideal choice for funeral services. It served as a testament to the innovation and craftsmanship of those in the industry.
The Saab 9-5 Hearse Legacy
The Saab 9-5 hearse conversions mentioned above are just a glimpse into the legacy of these unique vehicles. They highlight the creative possibilities that exist within the funeral industry and how classic cars like the Saab 9-5 can be transformed to serve a solemn purpose. While these specific Saab 9-5 hearses may no longer be available for sale, their presence in the market once sparked intrigue and appreciation for the art of hearse customization.
A Tribute to Elegance and Respect
As we reflect on the journey of the special Saab 9-5 Hearse by Coleman Milne, it becomes clear that it represents much more than a mere vehicle. It embodies the essence of elegance and respect, offering a dignified farewell to those who have departed.
Coleman Milne's unwavering commitment to quality, innovation, and craftsmanship has elevated the funeral industry, setting a standard that transcends the ordinary. As this exceptional hearse prepares to go under the hammer at Mercedes-Benz World on November 25th, 2023, it invites us to be a part of a legacy that pays homage to life's final moments with grace and reverence.