This year too, a big gathering of fans of Saab cars called "[email protected]" is organized by The Central Penn SAAB Club (Founded in 1985). For 35 years, the club has been gathering a group of of family oriented SAAB enthusiasts who enjoy driving our SAABs. They have been recognized nationally as one of the most active SAAB Clubs in North America. It is a show within a show at the Carlisle Fairgrounds from May 17 to 19, 2019 for the Carlisle Import & Performance Nationals.
This year, the main sponsor of the gathering is Orio and You'll find them in the center of the tent with a selection show specials in person. Organizers have a brand new registration form for the first time in quite a few years. This form should hopefully make things easier for everyone involved and is much more mobile-friendly for tablets and phones. The final schedule of events is still being worked out, but they don't anticipate any major changes for 2019. The Event organizers have been very fortunate to be able to keep their fees the same, but Carlisle Events has not. Cars and trailers are the same, but camping prices have increased to $40.
If you typically register one car and two campsites, please note that Carlisle Events is currently running a package deal on their website for $99. This is a savings of $17 over what they're able to offer, and you can take advantage of this by doing part of your registration at carlisleevents.com and the rest of it with them.
Virginia Takeover Convoy
Their 7th annual convoy to [email protected] will start in Henrico, Va, on Friday morning, May 17th with stops in; Richmond, Charlottesville, Opal, Haymarket and Leesburg, Va, then a meetup with the Maryland group in Frederick, Md. This convoy event continues to grow, with the help of; The Virginia SAAB Driving Club, Virginia SAABs, SaabKlubben of VA, The SAAB Project and dedicated Title Sponsor – The SAAB Network/Saabnet. Come out and join them in the largest known SAAB Convoy event, for a wonderful drive through the very scenic backroads of; Virginia, Maryland and Pennsylvania – to the largest annual gathering of SAABs in North America. Our small Virginia SAAB community are expecting to surpass last year's record with 35+ SAABs in their convoy this year.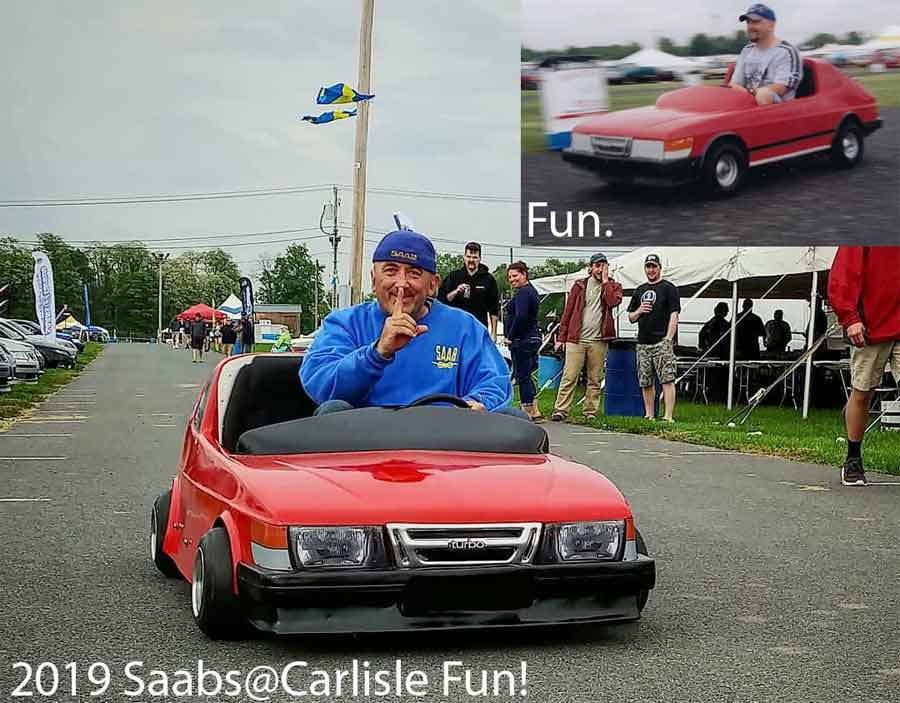 Saab Parts Show Specials
Click here to see the flier for the Parts for Sale at the event organized by Orio. They will have tons of vanity plates, floor mats and more. Check out the flier to see more. While at the show, you'll also find that they've deeply discounted…up to 50%…a selection of parts online just for [email protected] You can order now through the weekend on theSaabsite.com. If you are at the show, visit them and they an easily and quickly place the order for you.