Here is another of the interesting Saab concept created by designers around the world and on the legacy of the great Saab brand. This is another vision of the possible future of Saab that has not happened, and at least for now it will not happen. But it's nice to dream and daydream.
This last concept in a series was created by Anders Warming a Danish automotive designer currently Chief Design Officer of Borgward nad former design director of BMW & Mini. This is another of those "What-If?" Projects.
'Re-Born' SAAB
These are his first sketches for an idea for a 're-born' SAAB. Since years He has been fascinated by the cool, quirky aesthetics of the original SAABs – and since quite some time He has been sketching on this one. Obviously the brand doesn't exist, neither do Anders know of any plans to revive the brand, but is allowed to dream, isn't it?
A stretched elegant vehicle-silhouette, integrating a large 'window-to-the-world'-style side glass, with a vertically folding door mechanism. The aesthetics are kept clean and simple; aiming for a 'cool' balance between sheer, roundish surfaces, day-light-openings and bold graphics.
Anders believes that there might be a place for this look in today's car-world again! He enjoyed playing around with these ideas on weekends and late evenings! This is how he sees the future of mobility.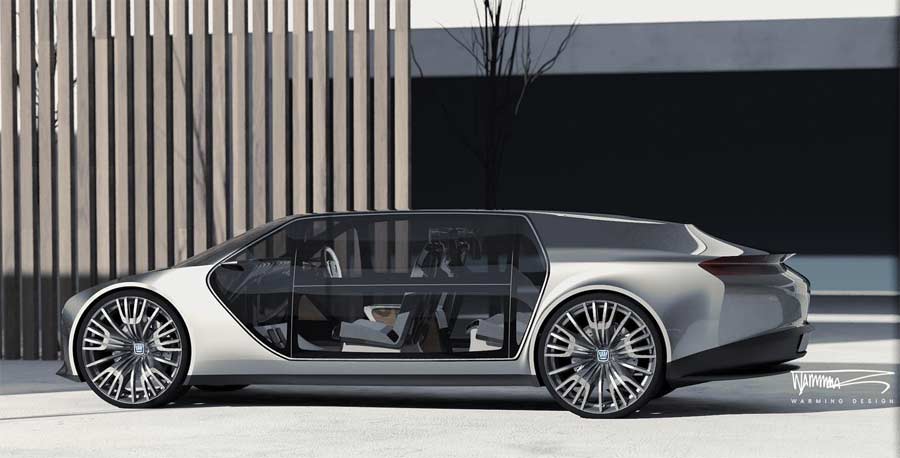 We have to admit, An intelligent and purposeful concept, the model is of fine rational form with elaborated usage scenarios. NEVS recently introduced a similar concept called SANGO, also for transporting passengers, but it is completely autonomous. NEVS's SANGO concept has no steering wheel and can accommodate up to six passengers. But we are much further to that autonomous concept than to one electric limousine like this.