"Saab vs." Advertising campaign launched in 1999. Was one of the more interesting promotional campaign from the automotive industry, one successful, all in the spirit of the unusual SAAB brand.
The campaign worked Martin Agency and its creative director Kerry Feuerman said that for a year and a half doing research on brands before they started working on commercials.
It was the first global campaign of the company, and the first that has enabled the promotion of different models and their opportunities in different markets, but has done so everywhere was thematically consistent and coherent.
On this occasion, a creative agency hired a number of artists for the campaign. One of these artists was world famous photographer Michael Kenna. The photos taken by this artist for campaign purposes are simply unreal, unique, brilliantly composed and send a clear message.
Michale Kenna, the titan of landscape photograph, keeps attracting people with his unique prints wich reminds of Japanese ink printing.
While Kenna shoots his commercial work with digital cameras, he has become renowned for the fact he shoots all his personal work on medium format Hasselblad 500CM film cameras. Digital photography is a fantastic and accessible format but it can sometimes mean we lose some crucial factors that are part of film's charm, most notably the slowness, unpredictability and the complications that arise when using an analogue format.
In this series of advertising photos for Saab's promotional campaign, he shot pictures taken out his encounters with Saab brand in his own and unique way. The photos emphasize his aesthetic, which is backed up by his brilliant sense an spirit.
As part of this campaign created a number of creative for TV, print, outdoor and Web ads that used "Saab vs." Theme. Below, see the interesting print of creativity and Kenna's photography: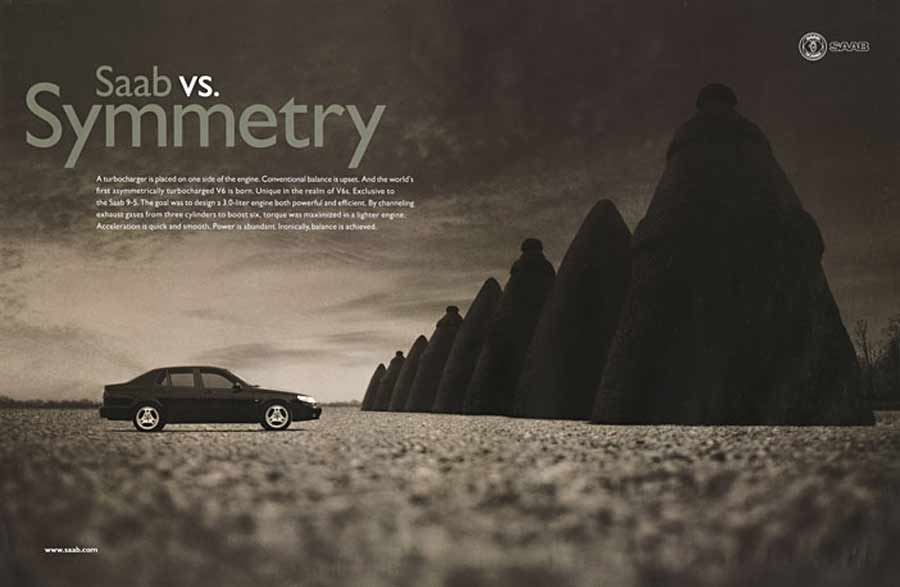 Really remarkable works, is commercial clients include Saab, British Airways, Range Rover, Volvo, Maserati, and Rolls Royce. Kenna has won several awards including Imogen Cunningham Award (1981), Golden Saffron Award (1996), Chevalier of the Order of Arts and Letters, Ministry of Culture, France (2000), and an Honorary Master of Arts from Brooks Institute (2003).