Text & Photo: Marcin Gabrowski (Saab Voyage)
During our trip – Saab 9-5NG Aero XWD V6 – Expedition to Nordkapp, we used two sets of winter tires. Tires are a difficult topic because in Poland we did not have the opportunity to gain experience with studded tires. From the beginning, we were determined to use Nokian products, with which we have a positive experience.
The car has large wheels – 245/40/R19. The choice of tires is important from a financial and security perspective. We left Poland with Nokian WR D4 with the initial plan to install the screw-on spikes of GripMax not earlier than in Riga.
We already booked an appointment in an appropriate workshop and the list of next on the road. While driving, the right conditions (sufficiently icy road surface) began to appear in Rovaniemi in Finland.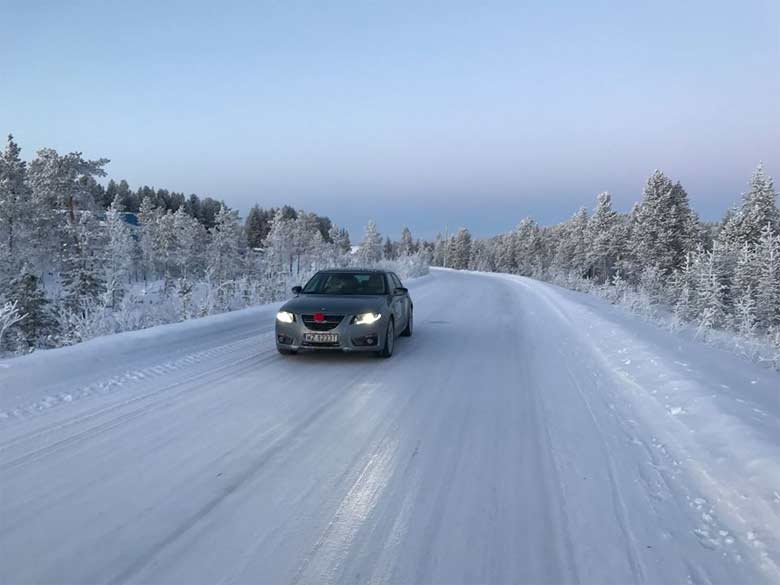 Vianor workshop points and Nokian workshops were available on site. In each of these places we received an incontestable message, that screwed spikes are not suitable for tires with a lamellar tread. This is due to the fact that this solution is not homologated and in the worst scenario, we will lose car documents and our car will be transported to the nearest service.
In addition, screwed spikes can damage the tire during assembly as well as when driving. As a result, we were forced to rent winter tires there. It was not so easy to find the tires suitable for our car, because we have quite an unusual wheel size as for this region. And it was not a cheap either.
Finally, we have found the right tires for rent. 40 minutes later our car was equipped with new Nokian Hakkapeliitta 9 studded tires, the same size as the WR D4. When the road was covered with pure ice, the car kept the road perfectly. Freshly snowed surface was able to put the car into a slight under steer on a curvy road. Apart from these situations, driving up to 90km/h was really comfortable.
It was pretty difficult to cast the rear axle. As you probably know, our car I would like to add that the car has front-wheel drive with an attached rear axle in the Haldex eLSD XWD system, and the tires worked on a suspension with a variable characteristic in the Saab Drive Sense system.
The car was literally glued to the road :)
To sum up: If you want to see northern lights and icy road, Nokian Hakkapeliitta 9 tires is the best solution to have both fun and safety.