Today's top-adhesive-vinyl technology is very good and much more advanced, allowing pros and DIY detailers alike to get great-looking results.
One of the main advantages of car wrapping is that it is completely reversible so if you become tired of the same look to your car or the colour becomes faded or dated, all you have to do is get it booked in to have the vinyl removed. Also, It will protect your paint similar to a clear bra.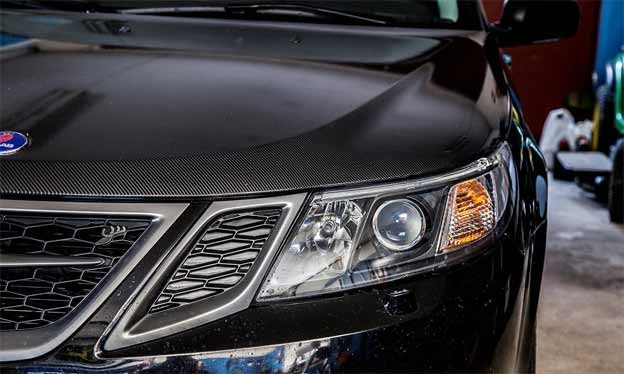 Wrap a whole car or just some parts? – All depends on your needs. If you want to change the color permanently, it is probably better to go with a nice paint job and be done with it. Wrapping offers you a shorter term solution, flexibility to change colors.
A car bonnet wrap is a unique way of changing the style of your car at an affordable cost. For this job you can hire professionals, or you can do this job in DIY style. But, When done improperly or poorly placed, a carbon fibre wrap can make the vehicle look like it just rolled out of the junkyard.
An owner of Saab Turbo X (RodbaN) has decided that he does this job – "I took some pictures of the result from the wrap I did last week. Unfortunatly the TX is dirty it self but you can see the result anyway :) "  He decided to wrap only the hood of his car – and the results are fantastic, you can see in the photos he sent us.