You may not know, but It all started in the early 80's when Arwo Pullola from Filipstad got the inspiration for a car-camper, which later was renamed to Toppola. After that, the rest is already history of Saab cars and and their practicality.
Toppolais a brand of camper shell originally made for the Saab 99 combi coupé. This car accessory is very rare and it is very hard to find for purchase.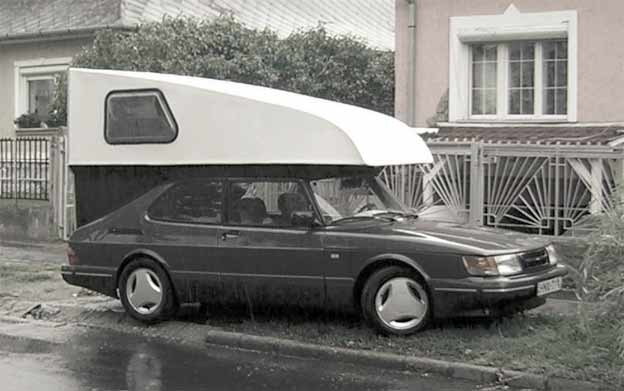 For all these reasons, many Saab fans prefer to create their own replica of Toppola camper shell. Just so Zsámba Petúr from Budapest create a his custom Toppola camper for Saab 900. And now he's selling this nice Saab "gadget".
UPDATE: The TOPPOLA CLONE was not created by Zsámba Petúr. It was created by Ákos Kerékgyártó in 2011. Its only prototype, not more Hungarian Toppola.
Zsámba Petúr only the owner now.
His Toppola Replica is now for sale in Hungary (only the camper for Saab 900 coupe 1988, car is not included). This is Not original Toppola, but it has good condition, 8-10 years old. No hotplate and lavatory, only bed for two.
Location: Budapest, Hungary.