The 2015 Scandinavian Touring Car Championship title battle resumes this weekend at Karlskoga after the summer break with changed conditions.
PWR Racing Team and Team Tido (SAAB teams) guys doing setup for the test sessions at 2pm and 5pm. Tomorrow they drive time qualifications in the morning and races in the afternoon at 2pm and 4pm swedish time. Watch the races live on www.svtplay.se (search for stcc).
The regulations have been changed ahead of the final three races with penalty weights being introduced, based on the standings of the championship and the results of the previous race weekend according to the following system:
Championship standings:
1st: +30 kilos
2nd: +20 kilos
3rd: +10 kilos
Previous race weekend:
Most points scored: +30 kilos
Second most points: +20 kilos
Third most points: +10 kilos
Penalty weights for Karlskoga:
30 kg – Thed Björk
30 kg – Fredrik Larsson
30 kg – Richard Göransson (Saab 9-3 STCC)
20 kg – Fredrik Ekblom
10 kg – Carl Philip Bernadotte
Should a driver score the most points at Karlskoga and lead the championship, he or she will carry 60 kilos for the coming race at Solvalla in Stockholm.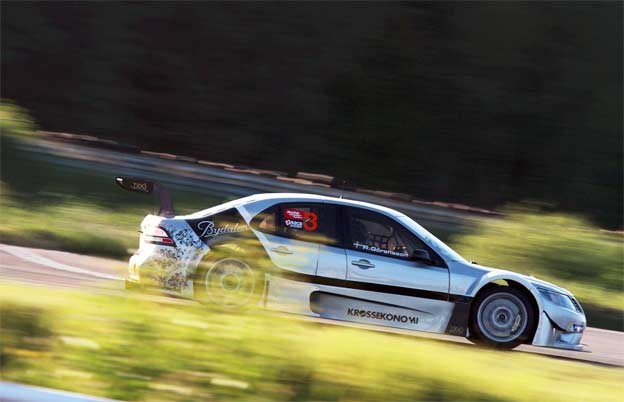 The STCC weekend in Karlskoga starts on Friday with two test sessions, followed by two qualifying sessions and races on Saturday.
STCC Karlskoga
Circuit: Gelleråsen
Length: 2400 m
Lap record (STCC): 1:04.683, Thed Björk (2013)
Schedule
Friday 14/8
14:55–15:25 Test 1
17:25–17:55 Test 2
Saturday 15/8
09:25–09:40 Q1
09:45–10:05 Q2
14:05–14:30 Race 1
16:15–16:40 Race 2
TV Schedule
Online/Live: www.svtplay.se
TV: SVT2 16/8 18:00
Livetiming at http://www.motorsport-events.se/racemonstcc1/